Testimonials
See below what a satisfied customer had to say about fishing in Cabo on the El Budster… with Salvador Sportfishing Charters – Cabo San Lucas ( Los Cabos ) Mexico
El Budster is a wonderful boat with Captain Salvador and first mate Victor a chatter box that makes a fishing trip enjoyable! Both Captain and mate want you to have a great experience and they work hard to make sure you do! My brother-in-law John and I thought we were going to be skunked but Captain Salvador and Victor started jigging at the last hour and sure enough Victor hooked on a marlin the Rod went to John who worked hard and brought the fish in, we all went to port happy! Great boat, equipment and crew recommend fishing with this company to anyone serious about catching fish. Thank you for a great day on the water in Cabo San Lucas
went out three day with another charter then went out on three trips on the Pride wont be using any other charter again. They asked what we wanted to catch or if we wanted action we choose action and thats what we got.
March, 2020
After checking several other fishing boats and crews, we decided to go with El Budster after talking to Mike. He was by far the most honest person we talked to all day about fishing charters. He also had the most reasonable prices. Their office is right along the main "street" in the marina and is a nice space, but very small. The cost of our trip included bait and fishing licenses, which most other places wanted to tack on as additional charges.
I went with my father-in-law and two brothers-in law for a half day fishing trip (~6:30 am – 12:30 pm). Francisco was our captain and he did an excellent job with the boat and spotting fish. Victor kept our hooks baited and set for us. The boat itself was quite nice and clean, with a bathroom on board and enough room for all of us to sit comfortably.
It was a fairly long trip (maybe 1.5 hours) to get to our fishing spot. We did some trolling along the way with no success. Once we got to the spot for bottom fishing, they located a school of snapper for us to target right away. We all caught fish very early, and after a little more than an hour we had 7 total fish on the boat, including 4 red snapper. We didn't have any luck after that, but still enjoyed ourselves. Be aware that only 2 people are actually able to fish at a time (not including the captain, who also had a line in from the top of the boat).
On the way back to the marina, sea lions will approach the boat for fish, so be careful that they do not steal yours as you unload the boat. We had to go elsewhere to get all of our fish cleaned for an extra $25, but Mike pointed us in the right direction and made sure we found the fishmonger.
All four of us really enjoyed the fishing trip and would definitely recommend the entire staff and crew of El Budster.
Alyssa N
March, 2020
A marlin, a shark and a bunch of Spanish mackerels. What's not to like. We had four fisherman.
Crew was friendly and knowledgeable. They worked hard to find us fish. Price was reasonable for the area. Boat was certainly adequate.
harste
February, 2020
Sometimes when you are traveling to Mexico and you are not sure of the lay of the land you rely on websites and brief conversations with people you have not met. And sometimes those resources paint a picture that can sound too good to be true. NOT THIS TIME!!! We had a blast fishing with El Budster! Clean boat and an amazing crew! Franciso our captain was just great to work with! And talk about great service from the first mate…Victor was awesome!!! He over worked himself taking care of us! The entire day was just a day we will never forget! These guys are pros and the make it look easy to deliver great service! I would fish with them every time I go back to Cabo! My hat is off to this great team and I would recommend them to anyone who is interested in a great day on the water and enjoying the great service they provide. Oh and we even caught a couple fish!!!
Mark M
February, 2020
My husband and I went fishing on the El Budster on Valentine's Day and had an amazing experience! Victor and Francisco were great! We ended up getting a ~130 lb striped marlin. We went out twice last year on other fishing charters and didn't catch a thing! We will definitely be back fishing with this crew in the future! Wonderful customer service, experienced and professional — an overall excellent crew!
Nancy Z
February, 2020
We booked our fishing trip with Salvador several weeks before we arrived in Cabo. Our booking experience was smooth and easy. Salvador stayed in contact via email and answered any questions.
When we arrived at the dock at 6:00 am, our crew was set up and ready to go.
We had a beautiful day on the Sea of Cortez. We saw several whales throughout the day.
At 8:00 am we started catching nice size Skip Jack. Nice fighting fish, we caught several. Soon after, my brother pulled in a nice Bonita. After about an hour we hooked two black striped Marlin at the same time. What an amazing time battling my first Marlin as my brother was doing the same beside me. My brother lost his fish but I was able to real my beauty to the boat.
We went another hour or so with no bites but enjoyed watching the humpback whales breaching around us.
Luckily towards the end of our day we came into our target fish. We were lucky to catch two nice Dorado.
Awesome day on the el Buster Pride. I can't say enough about our crew. Captain Luis got us on fish while (Ishy) Ishmael worked his tail off the entire time. The crew was skilled, English speaking, hard working and lots of fun.
Thank you for the amazing day checking off my bucket list.
Dwayne W
December, 2019
We had a great time. Well done. We bagged our lunch for the 6am start. Felt safe on the well maintained boat. Check out the pics !!!
Marc N
December, 2019
Crew worked really hard to get us on marlin. Had a few check out spread but no takers. Caught 4 dorado. Saw whales. Made friends with sea lions. A great day on the water.
gammagangster
December, 2019
"Well it was a slow day of fishing and the bite was definitely not on….however our Captain Hugo and first mate Victor tried everything in their bag of tricks to get us hook-up but no such luck. Thank you for all your efforts Hugo and Victor!!! We will try again with you guys next time we're in Cabo. All in all….fishing was great…..catching sucked."
Lance B
November, 2019
We ended up getting 4 or so nice tuna that gave awesome fights to get in. It took a long time to find them after trolling for Marlin most of the morning. After the tuna they tried to find us some marlin or dorado but just couldn't get into anything even though they tried changing up lures and bait and trolling methods. We did have one strike but it didn't hook up very good and was off before we ever saw it. It was a hot day with little shade available but we liked the captain and mate even though they weren't much for conversation. The captain said "lots of boats, not very much fish".
Richard V
November 6, 2019
Booked this trip through Mike and our goal was to get on the Budster or the Pride but both were booked. So Mike/Salvador helped us rent the Blue Marlin. The Blue Marlin is docked right next to the Budster boats and Luis is the captain. Luis worked hard to get us into Marlin and after a slow morning, I caught (3) 100-150 pound Striped Marlins from 10-12:30. Luis and Tupac were awesome and Luis mixed it up quit a bit so we could stay fresh. Would definitely use them again.
October 14, 2019
Great time on the Bandido with Roberto and Jorge…went out on 10/9/19. Boated a Wahoo and a Dorado. Lots of action, and saw nice Marlin around the boat. Crew was excellent and communication was never an issue. Couple of good Amigos who know what they are doing! We will be back again!
October 4, 2019
Had a great time fishing on el budster pride. Highly reccomend these guys. I have been on many charters and these guys know what they are doing and how to cater to the customer.Had an amazing catch of Dorado. I will definitely fish with them again!!
September 20, 2019
Marlin catch of a lifetime! Went out with el budster of Cabo San Lucas. And caught this……not 1 but 2 9ft blue marlins! 1 weighing in at 230lbs the other 240lbs!!!!
Richard
August 27, 2019
These Guys Deliver!
Was met at the dock by Mike who got our licenses for us then took us to the boat and introduced us to the crew, Endy and Ismael. They were super nice and easy to talk to and ready to get going and put us on some fish. Boat was extra clean and well equipped. My wife and I both caught a striped marlin and had several others coming in to look at the baits. Endy and Ismael worked hard to put us on top of fish and make sure we would catch one. Also caught a dorado which when we got in they helped us get it cleaned and Mike took us to a restaurant to have it prepared for us. All in all a top notch charter service and I would highly recommend to anyone. Will be back again. Date of charter was August 20th.
August 22, 2019
Best Sport fishing In CABO.
Won't find a better sport fishing outfit in Cabo, clean boats good people. These guys speak good English very attentive to your needs really work hard to make sure you have the best chance at success!
Jeff
July 30, 2019
Blue marlin fishing is awesome!
Great fishing experience!
The price they offer is not per angler, but total for the day. Great price!
We booked the El Budster for July 29th, but went out on the El Budster Pride.
My friend and I booked online which was easy, they also offered bag lunch with choice of ordering sodas, beers, etc. You can also bring your own cooler. We ordered food and 8 beers, but only drank half due to 4-6 foot swells. Very convenient and plenty of food in the sack lunch. They also offered breakfast burritos with the sack lunch, (1 Bean/cheese, 1 beef), they were better than the Sandwich!
Meeting location is DOCK 3.
Little office across from dock 3 in order to get fishing licenses.
Fishing captain and deck hand both spoke good broken English and very friendly.
Tip : in order to get on the dock, you have to pay $1 per person for dock security, in cash. Only surprise with respect to fees.
Notes:
1. El Budster pride is one of the smaller boats so be prepared for a rock and roll party in the Pacific, coming back is harder than going out (FYI).
2. Don't recommend non-anglers on board, save the money and save your partner/friend from getting seasick.
3. Take Dramamine the night before, eat a light breakfast, but bring snacks and water to stay hydrated(they provide 3 water bottles per anger as part of the trip).
Best part: see photo below! Blue marlin fishing should be on everyone's bucket list if you can handle the waves! My buddy was so worn from fighting the beast, he had a little siesta on the way back!
Great time and we will be booking on El Budster again!!!
July 28, 2019
Excellent Fishing Experience & Great Crew!
My wife loves fishing but as a new fisherman she has only fished for trout in the small local streams in NJ near where we live. We booked a trip with El Budster for just the two of us. I told Captain Luis that I didn't care what we caught, I just wanted my wife to catch some kind of fish to have a positive experience for her first time with offshore fishing. I have spent dozens of days blue water fishing and caught ~8-10 billfish over the years, so I didn't care about whether we went after billfish or not. However, the Captain said that the water temperature changed recently and the billfish were back in the area, and that was our best opportunity, even though June was not the typical billfish season. Boy was he right!
We boated 1 sailfish and 4 marlin in our trip, and my wife was so exhausted catching fish that I had to catch the remaining fish. We had 10-12 strikes, and 2 of them were hooked and got off the line, while getting 5 to the boat. I was impressed at the intricate way the First Mate, Victor prepared the bait, and how the Captain and the First Mate worked a strike repeatedly to get a solid hookup. They definitely know what they are doing! We released all of these magnificent billfish.
We had a wonderful trip and we would highly recommend the crew and El Budster!

June 1, 2019
These guys rock. I cannot say enough about my chartered trip on El Budster. The captain and deckhand worked their butts off to get us on fish.
The day started out gloomy with very choppy water. I have gone deep sea fishing in multiple locations from Alaska to here and this was one of the worse weather experiences (only at the beginning). This was my girlfriend's first time and she still had a blast despite how the weather began. The captain and deckhand made my girlfriend and I feel safe the entire time and we never felt worried.
We hooked up to two marlin, one of which was a VERY large stripped that we saw jump a couple of times. Further, we had another large shark on, that got off because it hit one of our lighter lines. Yes, non of those were boated, but that is fishing. Anyone that has gone after these species know that they shake and give a hell of a fight, many times resulting in them getting off.
The crew was determined to get us fish and kept us out two hours longer than our scheduled trip all in an attempt for us to actually boat a marlin.
All in all, I cannot say enough good things about these guys. Some stats for the days:
Boated:
1 Dorado
2 Amber Jacks
Hooked:
2 Marlin – one over 150lbs
1 LARGE Hammerhead shark
1 small Dorado
What we saw:
Throughout the day we probably saw 11 +/- Marlin coming into baits and around the boat. It was unbelievable.
4 sharks
dolphins
etc.
Again, these guys are amazing and I will happily book with them again. If you want a group that cares about their customers and their experience, use them.
Nicholai
May 9, 2019
These guys give it 100%! Victor the deck hand hustled the entire time. Thanks guys for an awesome marlin fishing trip.
Freddie
May 9, 2019
4th time fishing with Budster and we'll definitely fish with them again! Always a great effort by the crew, and got us on fish 3 of the 4 trips.
March 17, 2019
Best Fishing Ever!
The best day of my life fishing March 17, 2019. The captain said we were lucky but I think he was just that good. We caught two Marlin on our party of two on the El Budster Pride and could have probably caught more. Mine was about 200 lbs and my brother in laws was about 110lbs. The captain and crew worked their but off and put us on fish from the get go. If we saw one, we saw at least a dozen. The boat was super clean and the equipment up to date. Can not say enough about this charter service. I will recommend them to anybody that wants a top notch fishing charter.
Bill A.
March 10, 2019
Awesome crew!! Great day fishing!
If you are thinking about chartering a boat to go fishing look no further! This company is great to work with during the initial booking. We've used these guys the past two years and have not been disappointed. My fiancé and I are rookies when it comes to fishing but let me tell you, if there are fish out there they will put you on them and you will catch fish. Just yesterday Endy and Ismeal took us out to the marlin. They hooked 4 but between my fiancé and I we lost 3 but managed to land 1 with the help of Endy and Ismeals patience, encouragement and experience.. theses guys are the best!!! The marlin we caught weighed upward 175 lb measured 8'2". Just do it! You won't regret it.
March 1, 2019
Everything we wanted and more!
I booked a fishing trip for my husband's birthday for end of February. I called American Mike to get some details, just a few days before our trip. Within 10 minutes, he called me back. I had requested El Budster with Endy/Ismael, specifically due to the amazing reviews I had read. Since it was a last minute booking, I was really hoping for the birthday, but I was also flexible if needed be. Mike got back to me and made it happen! I reserved everything on their website and received confirmation within 10 minutes. When we arrived at the dock at 6:15am, Mexican Mike was ready with our fishing licenses in 10 minutes, and boarded in another 10. The beer we had ordered was already there, and we had brought lunches from our resort. As we were getting comfortable on the boat and heading out from the harbor, Ismael was setting up 5 lines in the water. It was a beautiful sunrise and we were admiring the views, when 2 of the lines hit (literally 10 minutes into the trip!), and Ismael handed us the reels. Unfortunately, we weren't fast enough- a sea lion got a hold of one of our fish and all we got was the mouth. The second line had a small bonita which we brought in. We continued heading out and all we expected from this day was a quiet, relaxing day on the water, as we love boating. Throughout the day, the crew was amazing, I cannot say enough good things about them. They were regularly tending the lines, yet were aware when we wanted privacy and relaxation and kept to themselves. They moved spots often, stayed in communication with other boats, and answered all our questions. After a few hours and a few beers, 4 lines hit at the same time, and we pulled out 4 15lbs skipjack one after another. That was quite exciting and honestly tiring. Then we said we might as well see if we can get some marlin. The crew did everything they could, even sharp turns and exciting rushed attempts to follow leads. We lost one and tracked a couple more without success- I guess they were just not hungry. On our return, we got to play and feed a sea lion and multiple large birds on the boat.
Overall, it was an incredible day! From the very first to last minute, everyone in this company treated us exceptionally well, put in a great effort to make our day, and really tried to make it exciting- even though we were more than happy with a day on the water. We will have to go back during a better fishing season and get that elusive Marlin. Thank you Endy, Ismael, Mike & Mike, we will be back!
Cristy
March 1, 2019
Great Crew!!!! Can't wait to go next year!!!
These guys rock!!! The crew was extremely friendly and helpful. Caught a Tuna about an hour into the trip and a 140+ Striped marlin. I was amazed at how hard they worked to get us into some fish. I Would definitely recommend. Thank you.
February 19, 2019
Super Charter Service
I chartered the El Budster on Monday Jan 14th and had a double header and we caught and released both striped Marlin. They were 100 to 120 pounds each.
I also went out again on the El Budster Pride on Friday Jan 18th and we caught and released a larger Striped Marlin that was probably between 130 and 150 pounds.
Both Captains and Mates were prepared each morning and professional.
They work very hard and do everything they can to catch whatever fish you
are interested in catching.
Both crews are friendly and fun to fish with and I plan to go back to fish with them again as soon as possible.
If you want to go out with one of the top charters in Cabo San Lucas then
El Budster is the charter service you will want to hire!
pedro s
February 15, 2019
I can't say enough about Salvador and Victor and our full day of fishing! Caught 3 Marlin by 8:30 am, they were able to get us on the fish quickly and flawlessly handle two Marlins on the line at once, including helping our 6 year old bring in her first! They were fantastic with her, which not all Captains and crew are great with kids, and they pay close attention to their Clients. If you want to see the whales for a bit, they'll show you the whales, if you want to take a break and do some inshore fishing, they oblige. Everything about your day is tailored to your preferences, and they are great at all of it. Salvador and Victor run a spotless boat with tip top gear, I wouldn't book with anyone else when in Cabos!
Sarah
January 24, 2019
El Budster Is By Far The Best Boat Rental. Fishing Crew. Very Very Very Friendly. Excellent Crew. Passionate About Their Time With The Fishing Group. Thanks For Every Thing.
January 19, 2019
We went out on the El Budster Pride and had the best day of fishing I could ask for. The crew were working hard the entire time and really knew how to get fish on the lines and in the boat. These guys are true professionals and the results speak for themselves.
January 15, 2019
Great team! We had six onboard. The captain passed by all the other charters and headed out for an incredible day of tuna fishing. We absolutely hammered the fish!! Had two newbies to big water on-board and they had a blast! Excellent crew, excellent results and an over all excellent day!!
December 19, 2018
Knocked it out of the park for the 2nd time!
This was our 2nd trip on the El Budster this year, we fished with them in July and when we traveled back in December we booked them again and we were happy to fish with Endy! We had Capt Endy and Ismael on the El Budster. The boats are very clean and Mike is super easy to work with during the booking process. They always provide a nice lunch that you pre order when booking the boat, if you are staying at an all inclusive ask them to back you a lunch with beer and pop if you are looking to save $. These guys are the one of the best charters we've used this is why we keep going back and we highly recommend them! Very professional and very friendly, both speak very good English.
December 9, 2018
I booked a full day trip on the El Budster after reading the great reviews on this website and others. I could not be any happier with my choice. Endy and Ismael were absolutely awesome. They worked their tails off to get me on the fish and within the first couple of hours we had landed 2 beautiful Striped Marlin and 2 Dorado. I went out with hopes of maybe catching one Marlin, but 2?…..absolutely amazing, and a dream come true for me. We also saw multiple Whales, and at the end of the day got to feed a big, goofy seal and a Pelican our left over bait. The whole process from the online booking to the end of the day was seamless and I would use them again in a heartbeat.
November 11, 2018
I always use El Budster for my sport fishing charters when I'm in Cabo and I am never disappointed… 2 Striped Marlin, 3 Sierras and 3 Dorados on Saturday November 10, 2018… This is not my first Trip Advisor post for them and it won't be my last as I'm going out again with them soon… If you're a first timer or a veteran looking for a professional charter service that won't disappoint, I swear by El Budster they know there business…
October 10, 2018
Spoke to Mike, up front with cost $375 +$20 bait for 5 hours for wife and I. On morning of trip, Mike had licenses ready, and walked us to our boat. Captain Hector and First Mate Salvador (both are bilingual) got us out at 6:20 am, and hooked a 38" Dorado 45 min in. Salvador did a great job coaching wife to bring in fish. An hour later, I bought in a 40" Dorado. As sea sickness set in, crew immediately turned around when requested…and got a 29" Dorado by the arch. Even though our trip was only 3 hours, it was our request and I appreciated the crew listening to us.
Ship was very clean, bathroom in boat was enclosed. We gave two fish to Hector and Salvador, and biggest fish was taken to Tequila Shark (two minute walk from Pier C) where they held on to the fish, then made it for us for only $10 each.
There weren't any hidden costs, boat was clean, gear in great condition. This pango about 27'-29' long was a perfect boat by a perfect company for us.

September 19, 2018
My wife and I booked a fishing trip with these guys and it turned out awesome! We didn't think we were going to get to go because of the weather. The day we originally booked the weather was bad and the closed the marina. The next day was the last full day we had in Cabo and that morning at daylight the marina was closed again. About an hour later we got a call from Salvador and he said he could send us out on a bigger boat than we had originally booked for no extra charge. We went out and within a few hours we caught 8 dorado, 1 bonito, and a wahoo. It was a trip we will never forget. I highly recommend booking with these guys!
September 17, 2018
My son and went fishing with these guys this past Saturday and we caught 5 dorado and 1 bonito and 1 skipjack. We tried to hook 2 marlin but they weren't interested in our baits. The crew captain Luis and deckhand Ismael worked extremely hard for us and were a pleasure to fish with.There are no guarantee's you catch fish but these guys tried really hard and we appreciated it! See you guys next year!

Jeff
July 29, 2018
This was the best fishing trip I have ever had. The Captain and First Mate were the best! I highly recommend El Budster.
July 18, 2018
My wife and I had a wonderful time fishing with the guys from El Budster. We got to see the beautiful arches here in Cabo and catch a bunch of fish at the same time. We caught dorado, yellow fin tuna, Bonita, and even a few jacks. The service was top notch and I would strongly recommend fishing with these professionals.
John
July 13, 2018
Best Trip ever great Captain Louis and Mate Andy!! We caught a 227 pound Marlin. Clean boat. Very comfortable and very professional look no further they are the best.
June 28, 2018
I have fished with these guys 3 times now, never let me down 2 marlin in years past This trip Marlin and a rare catch a huge Wahoo. STRONGLY SUGGEST GOING FISHING IN CABO, look up Salavor (owner) and Mike the office gentleman!
Rod M.

June 25, 2018
I unfortunately am terrible with names but both the captain and deck hand went the extra mile on the El Budster Pride Boat. I was solo on this fishing excursion because the girlfriend and our kids all get sea sick but I'm not passing up a chance to fish in Cabo and they wern't passing up a chance for a spa day so it worked out good.
I reserved the boat for a full day because I was determined to catch something bigger than my 75lb yellow fin from last year.
As with fishing we did a lot of trolling and when I thought it was just going to be a beautiful boat ride that day we actually hooked a 95″ striped Marlin. What a rush that was. Seeing this massive creature jump completely out of the water was a sight to behold. We hooked another large what we thought might have been another Marlin, but he got away pretty quickly.
This crew was on point, they would hustle when it was time to work making sure they did everything in their power to make it a great trip.
It was a great day, not only because I was able to bring in the Marlin, but because we saw a hammerhead shark. Seen other Marlin jumping out the water in a distance, the day was clear. The seas were a bit rough being a week after the hurricane but I couldn't have asked for a better fishing trip.
Actually I guess I would have preferred a catch and release on that amazing fish but he swallowed the hook and was a goner no matter what.
Go with El Budster Pride, they were one of the best Cabo fishing trips I have been on.
June 12, 2018
We chartered El Buster for a fishing trip in early June. We had a blast. We choose Salvador's Charters based on the reviews on Trip Advisor. The whole experience went smoother than a babies back side. We arrived at the dock at 6:15AM for our 6:30AM trip. We were greeted by Mexican Mike as he calls himself. We got our licenses and were introduced to the captain who took us to the boat. There we met the deck had who's name was Indy. I can't remember the Captains name but he was a great guy. The Captain asked what we wanted to catch, and we said Marlin if they were biting. He said they were and off we went. The biggest fish my friend Tasha had caught up until this date was a 3lb cat fish. She had never been ocean fishing. The whole trip was so that she might be able to catch something bigger. About 9:30 after heading 10 plus miles up the coast we hooked on to a marlin. Indy was so patient and nice to Tasha. She struggled but he kept her going and laughing to whole time. It took about 40 minutes to get the fish in. Indy helped Tasha hold up the Marlin for pictures then we let the Marlin go. We saw 3 more Marlin but they didn't take our bait but it wasn't from a lack of trying on the crews part. Oh well that's why they call it fishing instead of catching.
We had a blast and will take home some wonderful memories. I can't say enough good things about the crew, Mexican Mike, and American Mike. The boat was super clean, very well maintained, and the tackle was first class Shimano.
We will be back next year for another trip on El Budster. Don't forget your sun screen, long sleeved shirt, floppy hat, and food. We had the Hotel pack us lunches for us and the crew. There was water on board but we brought extra.
If you wear shorts don't forget to put sun screen on the top of your legs. I learned that the hard way. I also brought weight lifting gloves for Tasha and myself and she said they really helped her hang on to the pole. Thank you Salvador for a wonderful memory. Tight lines All.
April 14, 2018
These guys are great. I had trouble finding a boat to charter, and Mike called around to get our party of 4 on the 31′ Max Time for the day. We went fishing in April (off season), and caught 2 yellowfin tuna and 1 marlin!! We all had the best time with Captain Phil and Jose'. We asked to catch a tuna and before too long we had two tuna on our lines. We also asked to try for a marlin, and boom–we had one that was 140 lbs. and 7 feet long. There are other charters, some cheaper, but if you really want to be on the fish and have an amazing time, call Salvador and Mike at El Budster! They will make sure that you have a great time fishing.
March 25, 2018
Every year my husband and I travel to Cabo for fishing. We participate in the Bisbee's black and blue tournament and have entered with El budster and have been highly satisfied. Make sure to call in advance and make reservations with El Salvador. Fully bilingual. You will need to bring your own lunch and beverages (anything more than water). Fishing license can be acquired the same day next to their office. They will guide you through the process.
Marcela

March 17, 2018
Both Mike's and Sal made it easy to book the trip. Captain Andy and his mate were fantastic. Caught two marlin and four dorado. Boat was spotless! Definitely coming back.
Mike G.
February 24, 2018
Always our charter of choice!!! Both times my wife and I have fished with El Budtser – Salvador's Sportfishing Charters we've scored. The first time was with Captain Salvador and his deck hand Chris back in mid November 2017 and we caught several nice Dorado between 20 to 30 lbs. This last trip was just on Feb 20 2018 with Captain Luis and his deck hand Pepe on El Budster's Pride. These guys really know their stuff and will always put you on the fish. We hooked up on 3 Striped Marlin and landed 2. I wouldn't use anybody else and neither should you. Thanks "Mexican Mike" for the great service and we'll see you again soon.
February 23, 2018
AMAZING COMPANY, BEST IN CABO!!!!!! These guys are second to none. They were on fish all day long!!! I went fishing on 2-16-18 and it was the best time I've ever had! I've fished with other boats and by far this was the best. I caught 3 marlin in under 2 hours!! I asked to catch a mahi and it was like the captain magically threw one on the line and it appeared! If you're going to book a charter, El Budster is where you want to go. There are other charters, some cheaper, but if you really want to be on the fish and have an amazing time, look no further than El Budster!!!!! Extremely professional staff, and were all about really trying to make it a great time.
Jacob S.
February 22 , 2018
Recently we fish with El Budster. Came from Seattle to get a Marlin. The deckhand Ismael and captain Andy made it happen. The boat was clean and the gear in excellent condition. Throw in a 20 lb Dorado (Mahi-mahi). The perfect trip. We brought back the Dorado and had tonight. Excellent!!! Would highly recommend them!
Juliana
February 11, 2018
Had a great experience using El Budster. Excellent crew, boat and equipment. 4th time fishing in Cabo, first time with these guys but we'll be using them next time.
         Andrew
February 3 , 2018
I've been with these guys every time I go fishing for about 10 years now. Once and only once I was talked into going on a boat for $50 less than what the guys at Salvador's. It was a big mistake. The boat was dirty, gear about shot, crew spoke no English and we did not catch a fish all day. Never once been skunked on the El Buster. I'm sure it must happen but it would be a rare day. Also their fishing reports have been 100% accurate. They say what you catch, weights are estimated but very close. Boats and bathrooms super clean and the fishing gear is in great shape which is very important when you are pulling in 100+ pound fish!
Scott
January 24, 2018
I went on a full day trip with Captain Louis and mate Pepe it was exciting and they did an excellent job.
I caught a 120 lbs marlin and we lost 2 more we saw at least 30 whales it was a very good experience fishing. January is hit and miss the only consistent big game fish are marlin at this time of year the rest of the species are a daily surprise we saw wahoo but could not catch.
January 4 , 2018
Took two charters on the El Budster on December 29th and 30th with Captain Endy and First mate Ismael. Being an avid fisherman from Florida when I go on charters I expect a lot and I can say this was one of the best experiences I have had on a charter. The goal of our trip was to get my wife on Marlin, anything else on top of that would just be a bonus. The first day we went out Capt Endy asked us what we would like to do. I said well since we are Fishing two days in a row I would like to fish for strictly marlin today. He said "okay cowboy let's go". So we headed offshore and saw a Marlin after about an hour but couldn't get it to eat. We then sat up on the golden gate bank with live bait. After about 20 min we had a double header of Marlin on the line. That is when the fun began. I fought one on the bow while my wife fought the other from the stern in a fighting chair. They were so professional during the whole fight. Ismael was running back and forth between my wife and I making sure we were okay. Captain Endy was busy driving the boat but at the same time he was filming the whole thing on my GO Pro camera which he knew was important to us . After about 30 min I got my marlin in and it was about 130lb Striped Marlin. What a great fish. The fish my wife got was just over 160lbs. Not only did I get her on a marlin but we got a double header! Unbelievable experience. The second day we went out we were going to try for Dorado and Tuna. At 6:45 am barely 100 yards outside of the pass they hooked me up on a 15lb tuna. About an hour later we had a double header of Dorado on. I caught one that was probably 10lbs and my wife got a bull that was over 20lbs. After that we went to a closer spot to try for more marlin. We each caught another marlin. Mine was probably 130lbs and my wife's was probably 120lbs. Overall we caught fish but more importantly we became friends with Captain Endy and Ismael. They are great guys that worked very hard for us both days to make sure we caught fish and to have a great time while doing it. When I return to Cabo, El Budster is the only boat I will be going on. They do it right and take care of customers. Mexican Mike was at the dock each morning to take care of everything else from Fishing licenses to water, snacks, etc. This is a well run company. Thanks again guys we had a blast.
Andrew C.
December 19, 2017
So, I know it's not easy to select a guide service when there's so many to chose from in Cabo. Let me tell you my Dad has used this guide service since 2008 taking all kinds of family and friends out fishing. It's been difficult for him & me to ever meet up for a fishing trip. Thankfully we got that chance this year and the "El Budster" didn't disappoint, we had two outstanding days of fishing with Captain Andy & crew. With other boats returning to the harbor with either no catch or low numbers we were busy all day on deck reeling in Tuna, Dorado & Wahoo. From the time you hit the pier in the morning with your breakfast & lunch waiting on board to the time you pull back up, it's first class service these guys never stop or give up. Thank you to the entire staff for a great experience, plan to see you next year with some friends of mine!
Jeff M. – Lake Conroe, Tx
November 22 , 2017
My wife and I booked a charter for 11/18/2017 aboard the El Budster Pride. The crew was amazing and knew where to find the Marlin. We each caught a Marlin I caught a blue and my wife got 180 lb striped Marlin. Thanks guys awesome experience.
Mark N.
October 20, 2017
My fiancee and I were excited about fishing for the first time together in Cabo, but we were not expecting to have such an adventure with El Budster. Our Captain was Endy and his deck hand was Ismael. These guys are incredible pros. They know exactly what they are doing.
We warmed up with catching a skipjack tuna. Then we had a wild morning catching over 10 dorados! We then spent the rest of the afternoon trolling for marlin and bam! We got a 200lb Marlin on the line. What a fight! When we got the Marlin on board we were exhausted and in shock. One of the best experiences of our lives! We fed the crew and have lots of fish for friends and family.
I can't stress enough how great Endy and Ismail are. We had the time out lives with them and can't wait to come back and fish with them again!!
Dan
October 15 , 2017
Hi my friends and I have fished on both boats we usually book them for 5 days in row. We fished on the pride with captain Louis and Amar was our mate. These guys were great they put us on fish constantly. Tuna, Mahi, Marlin, Wahoo. I highly recommend them. It is great fishing with them we will remember this trip forever.
John F.
October 12, 2017
I have fished all my life and have been fishing with the El Budster now for over 3 years. I have written a few reviews and most of them describe how I had the best fishing trip of my life. I hate very much to be repetitive but I just once again experienced "the best fishing trip of my life!!!!" To begin with their is not a better crew in CABO than Captain Andy and Mate Izzi. Some crews go out to pass the time , drown baits and get back to dock, Andi and Izzi go out to catch fish big fish!!!! Managing the dock office is Mikie who is always available to help you complete your arrangements,
On the first day of fishing we began with some early morning action catching mahi-mahi and yellowfin tuna. I this point the day was already a total success knowing that a very tasty dinner was already in the box. But then Captain Andy set his sights on some bigger game. After trolling for a couple of hours we got a strike that almost pulled the fishing rod in the ocean. As he continued to rip off line from the reel, he then became acrobatic and took to the air in the horizon. Now the scope of this monster could be seen, a Blue Marlin! After 90 minutes of complete exhilaration and exhaustion we were able to get it to the boat. This was truly my fish of a lifetime. To see Captain Andy and Mate Izzi work and communicate like a well oiled machine while the fish makes its runs and changes directions is a thrill itself!!
For me , fishing CABO means fishing on the El Budster and I do not ever for see myself coming to CABO and fishing any other boat!!!
Mark S.
September 28 , 2017
We went out with Captain Luis and his mate Elder for 3 days straight. The fishing was great for us even though everyone said it was slow. We caught fish every day! I finally got the Marlin I've been looking for after 10 years and on our first day out. Hooked up with another huge Marlin although it pulled the hook was still soooo exciting. I can't stress enough how great these guys were. We will be going back again and again. We center all our vacations around fishing and this was the best by far.
Becky L.

August 31, 2017
Captain Luis and Deckhand Mobley. Showed us two days of epic fishing. We caught lots of fish, Dorado's, yellow fin, striped Marlin. 65 lbs Yellow Fin. 30 min fight. So worth the trip on this boat!
Anthony B
August 12 , 2017
Read reviews so took a shot with these guys and glad I did. Talked with Mike a few months prior to set up. When we saw him day before he was very helpful and quite the character. Endy and Ishmael are the best. Friendly and enjoy what they do which makes it fun. Not 30 in we have a triple strike…2 Skipjack and small Dorado all released. Ended up catching 8 keeping to nice Dorado, and that was only in 3 hours. We decided to try for Marlin and about 15 minutes into that we almost had a huge Shark. Rest of day was a bust but hey that's the chance you take on Marlin..and I believe only 3 caught the entire day. Try these guys out you won't regret a moment.
August 11, 2017
Went this past week with my wife and 2 daughters. Mike was very helpful in coordinating with Salvador. You will be hit up every time you walk anywhere near the marina by private boat captains. I travel to Mexico and central America quite often and have no problems working with these private "entrepreneurs", but we opted to go with a "brick and mortar" type charter. They may cost a little more ($50-100) in our case but i thought it was worth having a reputable operation with a well documented business history, a fleet of boats in case something went wrong with the boat, and the piece of mind that when you book/deposit via paypal/credit card that you wont be taken by a cash only transaction. Salvador and Roberto were our guides and worked hard to put us on fish, we boated 2 smaller Dorado, 7 triggerfish, and lost one hammerhead shark (I'd guess 6-7 foot) after about 10 minutes, spotted one big blue marlin but it wasnt interested in biting, and saw a dozen or so sea turtles throughout the day.
They kept the boat deck meticulously clean, wiping up any spot of blood after every fish. The head was clean but the sink in there could have used a better set up(soap and water) to wash hands when we had lunch. Also, the cooler in the cabin needed more ice, a big block of ice floating in water isnt ideal for storing lunch in. Other than that it was a good experience and would do it again.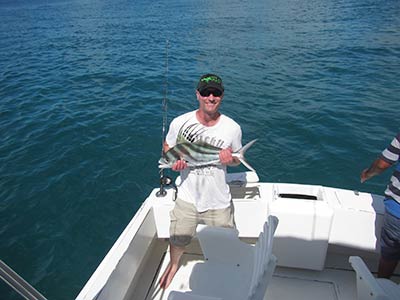 August 5 , 2017
I fished on 08-05-17 and booked the boat charter at the dock through Mike who was easy going and not pressuring you like most people around the Marina. He was professional and showed me the boats that were available.  I decide to fish on "El Budster". I have been fishing in Cabo for approx. 18 years and have been on many boats and the Captain Endy and his First Mate Ismael are one of the best professional crews I have fished with. They asked what type of fishing I wanted to do.  I said "Tuna" or Dorado" or whatever is biting right now. Captain Endy gave the thumbs up, off we went for bait and then to the fishing grounds.

Both the Captain and First Mate, baited the hooks and off we trolled. Within the first 15-20 minutes the pole bent "Fish on" and the first "Tuna" was on then a second one. Both fish were on the boat within 20-25 minutes. We reset the baits and started trolling again. After approx. 30 minutes two rods bent with two tuna and as I was reeling in the first one, two more rods bent with another two tuna, making it a total of four at once. Both the Captain and First Mate worked hard to keep all the fish on and waited for me to real them in. After the first two were landed my arms were tight and I was dripping with sweat and the Captain yelled "Come on "Cowboy" you have two more", I was laughing and reeled in the other two. After fighting the fish it was time for 2 Cerveza's and high-fives.

We then trolled for "Dorado" and ended up with a total of four but due to the size we released them. The Captain then decided to try and troll for a "Marlin". After much work and looking, nothing was biting so the Captain asked if I wanted to try to catch a "Roaster fish". I gave the thumbs up. We trolled along the beach and the First Mate showed me how to catch one and handed me the pole. I felt the fish hit, let out some line and set the hook. I pulled it on board and it was the first Roaster fish I have ever caught. Total of Roaster's were 4 and all were released. The Captain and First Mate took photos of me and my catches (I was solo on the boat) and they stated they would post my pictures so I could get a copy. Which I can't wait to see them.

We ended the day with a total of 7 Tuna, 4 Dorado and 4 Roaster. It was the highlight of the my trip and would defiantly recommend fishing on the El Budster!.

Sincerely Todd from Los Angels CA
August 9, 2017
I recently was in Cabo for family vacation and had a great time fishing with El Budster. I have known their booking agent Mike for years and he always does a great job taking care of us. We caught fish both days and the service was excellent from the boat captains and all involved. We caught snapper, and huge Rooster fish Andy tried hard for Tuna which is a little slow right now. Me and my two sons really enjoyed out time and will be back again soon. Thanks Mike and El Budster crew.
Anthony
June 8 , 2017
This was the best fishing trip ever. Friendly and professional staff. All expectations met and even surpassed. Already making plans to come back!
May 22, 2017
These guys were the most professional crew that you could want to fish with. I've been on alot of fishing charters and no has put forth more effort to make sure we have fun and catch fish . Tell them what you want and they will get it. We caught rooster fish Marlin and mackral . Spend your money here people or you messed up. We talked to many guys who fished on the same trip with other outfitters and they didn't have the fun or catch what we did.
Mark K.
April 26, 2017
Have always had a good time fishing on the El Budster and Mike has always helped us every step of the way, leading us to the boat, being there when the boat came in, walking us over to where they clean the fish. The skippers and deck hands have been very attentive and helped us get "fish on." We were unable to fish with them this year as the boats were reserved for our entire stay, but we will try again next year.
March 26, 2017
Our family of six decided to do a day of fishing during our Cabo visit the first week of March. Early in the week, we walked the docks, talked with three different outfits including El Budster. One of our sons sent me the link to the TripAdvisor reviews and that is what closed the decision. We did a full day charter which started slow but the crew kept moving up the coast and we ended up doing better than most of the boats around us. 8 fish and then while trolling back, caught a tuna. We came upon some whales on the ride back to the harbor and some sea lions jumped on the stern for the ride into the harbor. The crew was fantastic, the family had a great time and we took the fish right to a dock restaurant for some fresh cerviche and grilled fish. I would highly recommend Mike and his crew for an excellent experience and would certainly fish with them again.
February 25, 2017
El Budster showed us a great time fishing in Cabo! They were patient with the girls and let them bring in their own fish. Would highly recommend. Boat was clean and a great value for the day!
February 23, 2017
Our 1st visit to Cabo and to fish with these guys! We loved it ! We will be back! Andy and Ishmael our guts in our boat were wonderful! We were out early in the morning and fished all day! Caught lots of different fish! Talk to Mike he will book you on a great trip! Oh and Pancho made his visit!
February 14, 2017
Numerous times we have fished, and we have caught all day long every trip out. No other fishing operation in the area will put you on fish like these boats. The man to contact is Miguel (or Mike) as he is called. He will take care to ensure you catch and get the boat stocked with whatever you need from box lunches to beverages. If you want to sport fish – catch and release, or if you want to eat your catch -Mike can get them cleaned and cook there by the dock. Do not bother with the others because they cannot come close to satisfying the need to fish Cabo. Seriously the only place to check.
January 21, 2017
On the way home tonight from two weeks in Cabo. While there I spend four incredible days fishing with Salvador and his crew (Endy and Ishmael) on the El Budster. While I typically have fished off-shore, Salvador and his crew said the water temperatures had not been optimum for going out after Marlin and Dorado. While I am sure they would have been more than happy to drag some lures around out at sea if I really wanted to go after the "big fish" they suggested we at least start the day off by fishing more in-shore and targeting other species that were biting. Wow- what a great time was had by all. Over the course of the four days fished we caught numerous Sierra Mackerel, Roosterfish, JackOBill, Triggerfish, Red Snapper, Pargo and even some Yellowfin Tuna. On top of all this success, they did even get us out running with some dolphin which led to some Yellowfin Tuna hook-ups. One afternoon on the way in we set out some lures for Dorado and even though fishing had been slow for them we caught a beautiful 35 pound bull and a nice 25 pounder as well. While the fishing was outstanding, the fun we had with Endy and Ishmael made the trip extra special. These two work tirelessly to ensure everyone has a great time. Whether working with Salvatore or Mike to arrange the details of the trip, having Mexican Mike attend to your needs on the dock or out fishing with the staff of the El Budster, I cannot say enough great things about our experience. Hats off to All of you once again for making it another GREAT January in Cabo.
January 12, 2017
This was our first fishing trip in Cabo with our kids (13 & 11) , Endy & Ismael were awesome! When we weren't having luck out deep, they kept changing lures and spots to get us some fish! We ended up catching 3 beautiful Sierras and took them to Solomon's Landing in the marina after and they prepared ceviche and the fish 4 other ways and it was awesome. They made the trip so fun for the kids too, setting the bait so the kids could reel them in. They also lured Pancho the sea lion to join us on the back of our boat the rest of the way into the marina, we all got a huge kick out of that!! It was very cool when we started at 6:30am. I did not have a jacket and I was COLD so plan ahead unlike me!
December 19, 2016
Just back from spending a week in Cabo. Hard to come back to 8 degrees in NW Arkansas. Fished 4 days with the El Budster team and had another great experience. Took a friend along who had never fished Cabo. He caught the first marlin of the trip and added the roosterfish to his lifetime list. As usual we wanted to catch something to eat and Endy and Ishmael were most accomodating. We caught and dined on dorado, tuna, sierra and red snapper. All in all, a great trip – which has been the norm for me when I've fished with Salvador's boats and captains.
John
December 17, 2016
Having fished with the El Budster for three years with great success, with the assistance of Captain Andy and Mikee in the office I can tell you the El Budster is more than a boat!!! If its your first time its a opportunity to develope a long lasting friendship and if your returning , each time its a reunion with cherished friends who always work their hardest to insure you have a wonderful day. A great example of this was my last trip. Having had great success on the El Budster I told Captain Andy the day before I wanted to go after the monster Blue Marlin. As a result he used all large tackle limiting our opportunity to catch other species.We had a wonderful day but without any action and I said lets bring the lines in and head in. I looked at Captain Andy and the mate and their faces were of total disappointment!!! I said hey guys we were fishing for Blue Marlin, odds are we were not going to get one!, but still they were more disappointed than me!!!!!! The story gets better!, here we are heading full speed in at the end of the day, during which time most charters would not never even consider stopping, BUT Captain Andy believes he sees something, pulls back the throttle and yells a command to the mate, Within seconds a line is tossed out and shortly thereafter I am battling nice stripped white marlin. After a good fight we were able to get a quick photo before putting this beautiful fish back into the ocean. Like I said "The El Budster is more than a boat!"!!
Mark S

December 5, 2016
I have fished with El Budster with my father for two years now and I couldn't have had a better time. The crew is phenomenal and even on bad days fishing it is still a great time. Over four trips I have personally brought in four Striped Marlin. We always come home with a good amount of fish to have for dinner.
November 25, 2016
This was my second time with El Budster, bringing along a couple friends new to the area. We quickly hooked up a few Dorado and then changed course and ran into a line of several hundred dolphins outside Pedrigal heading south around the tip. Hugo kept pace after each tuna was landed, no easy task as each was large and angry. Luis kept poles baited and in the water.
We will back, I have boats in the states and Salvatore keeps the chairs and equipment at a high level of standards not always common in these parts. Book directly with Mike.
Eric
November 13, 2016
Had a great time catching an 109″ Blue Marlin with this professional staff and Awesome Boat. The Captain and his mate did an excellent job from start to finish. Would highly recommend to anyone considering a fishing trip while in Cabo.
November 9, 2016
First of all our trip had to be rescheduled due to the death of my mother, Salvador was very good about rescheduling and applying our deposit to the new date, thank you Salvador.
Endy and Ismael both were great to fish with! The bite was slow but they both worked hard to put us on Dorado, Skipjack and Marlin. When our trip was over and we were heading in, Endy spotted some surfacing Marlin and we were immediately back to fishing. They were more interested on our trip than there time. I highly recommend El Budster, will definitely fish with them again.
October 30, 2016
We had a wonderful 1/2 day fishing trip with just the 2 of us. Mike from El Budster was able to arrange the perfect trip for us on short notice. My husband caught a Dorado and I caught and released an amazing Sailfish . Thanks for the amazing day.
Kim M
October 25, 2016
Thanks again to another great experience on the "El Budster". These guys are the best and find the fish when others cannot. Salvador Nunez and Mike Simms have never let us down. Their captain, Hugo Mena and deck hand, Luis Torres, make a great team. They work really hard to find the fish and put you in the chair for the fight of your life. Our last trip with them was the best ever. We went 20 miles out which was contrary to all the other boats. Our reward, a 320 lb. 11′ 4″ Blue Marlin that took all 4 of us to boat. Never a dull moment as Luis changed lures, color of lures, line, bait, and technique over and over until we hit the magic combination!
You cannot find a better team than this one. You will also find it difficult to find a cleaner boat with better fishing equipment. At the end of the day, the rods and reels are not only cleaned but stored away in salt water protective enclosures.
Our previous trip out rewarded us with a smorgasbord consisting of Blue Marlins, a Striped Marlin, Tuna, and of course mahi-mahi…. what could be more fun than a 5 on at one time! Way to go "El Budster"!
Ron
October 16, 2016
We went into Cabo on a Cruise ship that did not offer any fishing trips so I booked the El Budster Pride for a full day for 3 of us. Mike in the office was very accommodating and understood we would not be off the ship until later in the morning and promised to have us back in time for the last tender to our ship. He had the boat, crew and awesome lunches beer and water (extra cost, not included in the booking) ready to go the minute we got there. We got right on the boat and headed out. The captain Hugo and deckhand Luis were awesome! The boat was supper clean and modern as well as all the gear and tackle! We all three got nice Dorado's and then later in the afternoon nailed a 100lb striped marlin!
It was a great trip all around, of course catching fish added to the joy of the trip but as far as the professionalism, service and quality of boat, gear and crew it would deserve a 5 even without the fish.
Ken
September 27, 2016
We leased the Rondinella through Salvador's Sportsfishing. It was big enough for eight people. Crew was wonderful, just luck wasn't on our side. It was terribly hot and humid, not a lot of shade on board. Also, buy fishing license on-line for about $11 depending on how peso/dollar exchange is. Otherwise, they'll charge you about $17 if you get it with the company. Other outfits were charging as much as $20. You need to have one, and they do check.
September 25, 2016
I have fished with El Budster for the past 6-7 years. For my 60th birthday my wife bought a trip for me and my friends. First off Mike, the booking agent is not only a great guy but helpful and honest. He assists me in all phases of trip prep and booking. The captain Endy and mate Ismail are great, knowledgable , hard working, and fun. The gear is top notch, including Tiagra 80 w reels.Their great English is a definite plus. We caught dorado, tuna , and I ended the day with a 250plus Blue marlin that I checked off my bucket list. Thanks to a great crew! I'll Be back next year Mike! If your wandering, the fish came up tail wrapped or it would still be swimming.
September 22, 2016
My second year fishing with them. Very trustworthy, great boats and outstanding crews. We hit yellow fin tuna, Dorado and a 280lbs blue marlin. Brought 100 lbs frozen fish home and another 25 lbs of smoked fish. Much better than the random dockside fishing charter. Thanks, Mike, Mike and Salvador.
September 6, 2016
Went for a girls trip to Cabo…I LOVE fishing and asked a friend who they recommended. They said El Budster is by far the greatest and I couldn't agreed more. The captain and first mate were so knowledgeable and friendly! We saw The Arch, met Poncho the wild sea lion who we were able to feed our left over live bait to, a massive school of Dolphins, caught two Dorado's and one Wahoo in the 8 hours. One Marlin cut the line (but jumped out of the water to show his face) and another massive fish cut a different line. Greatest fishing experience by far! Cannot wait to return and will definitely be using El Budster again!
August 24, 2016
My son and I took a five hour trip on El Budster last week. Everything from being greeted at the Marina to help fishing was perfect. We immediately began fishing catching several Skipjack Tunas and then finally a very nice Wahoo (we kept and ate for over a week) and a beautiful Blue Marlin. We also almost caught a Shark on the return to the Marina. Best fishing trip ever, will be hard to beat that experience.
August 17, 2016
We had a blast fishing on EL BUDSTER PRIDE. It was my sons first time to Cabo and fishing out in the pacific. They tried so hard to get us a fish and after about 2 1/2 hours the hooked us a Marlin about 130lbs and 7-8′ long. It was a bucket list item.
Thanks again for the best fishing trip ever with my son!
Jeremy J
August 6, 2016
What more could you ask for!! Waking up at 5:30am with the anticipation of getting on the the El Budster Pride. We head out 20-30 miles off shore with the hopes of catching the one fish that I have been hyping up all week to my my 2 boys the fantasticly exciting Marlin. After 3hrs of trolling my oldest son and I hear the zipping sound of the reel and Louìs the boat mate screams "FISH ON" "FISH ON". He jets down to help us hook it and 50 minutes later we had a beautiful 130lbs 96″ stripped Marlin in the boat. I can't say enough about how helpful especially they were. The captain and his mate are the ones who made this experience truly unforgettable. THANK YOU EL BUDSTER PRIDE.
August 5, 2016
Amazing captain and Mate. Hard working, entertaining, and fish catching machines! Love these guys, loved the trip. Can't wait to return! Thanks Endy, Ishmael. Shout out to Mexico Mike…your man on the docks.
Al Y
August 3, 2016
El Budster Pride is THE boat to go fishing on when you are truly going out to go fishing with some of the Best in Cabo!!!! They care about their fisherman and change lines constantly to get You On the Fish! My 13 year old caught a Big Beautiful Marlin 2 months before they are really in season. Thank you to the El Budster crew!!!!! This Marlin had a hard fight against my son. Everyone around the dock couldn't wait to take a picture with him. Thank you to all! We will be back soon! 🙂  
Tammy K
July 29, 2016
We went fishing on El Budster Pride on July 25. Captain and crew were very professional and safe. With their hard work we landed the biggest fish I think either of us will ever see! Highly recommend this charter!
July 27, 2016
We had the best couple days ever on the El Burster with Captain Endy and Ismael. In two days we caught a Blue Marlin, three Striped Marlin, Dorado, and Tuna. We fished with Endy when he was a mate. He was the hardest worker then and he brought that same attitude as a Captain. Endy and Ismael are very personable, knowledgeable, and made our trip great. Mike, on the dock, is your guy for anything else. He has the hook up for everything from getting your catch cleaned to quick turn around taxidermy.
All in all, I'd recommend these guys to anybody . . . and I am.  
Sam C
July 24, 2016
Booked a fishing trip with these guys months before. A little hard to contact them by email to confirm but everything eventually ran smoothly. Just two of us on a fishing trip out of Cabo on a beautiful Friday morning. Nice clean boat , good captain and one crew who as always did all the hard work and made the trip enjoyable. Food , drink , weather and a request to catch a Marlin all went according to plan. We left at 6.30am and by 930 am we had hooked a 200lb Blue Marlin. All round a terrific day. The business could be a little more responsive to emails but all in all a great trip , great service and an exciting experience.
Gary B
July 22, 2016
El Budster has some of the best guides and guys in Cabo. I caught blue marlin, dorado and jacks. These guys really know where to go for what ever type of fish you are looking for. I will be visiting them again. Soon!!!!
July 14, 2016
Endy and Ismael were awesome in hooking us into two 100+ pound Marlin, and two tuna. Also pointed out various dolphin and a hammerhead shark which was pretty cool to see. The boys and I had a great time and experience. Thanks!!
July 4, 2016
My 19 year old son and I decided last minute to book a fishing trip and after reading the reviews of El Budster, I decided to give them a shot. I was able to secure a half day with the El Buster pride for the next day. So we went out of the 4th of July for our fishing trip. Everyone I dealt with was professional and the boat was clean. We headed out and we hooked into a Tuna and a nice Whaoo. The captain and the first mate did there best to get us some more but we didn't hook up any more fish but not for any lack of effort. I would book them again without hesitation. I booked them based on reviews on trip advisor. Thanks to everyone that leaves reviews so we can all enjoy our travels.
Scott
June 25, 2016
First off, Mike was great to deal with. Went out on the Rondinella. Boat was clean and well equipped. Captain Marshall and his first mate worked their butts off for us. Very competitive fishermen. We caught 10 bonita, 7 yellow fin tuna, and a striped marlin. Within an hour of getting back we were eating our tuna by the poolside palapa at our place. Fantastic. Probably the highlight of our trip. Highly recommend.
June 23, 2016
One hell of a job from to of the finest fisherman in Cabo they worked there butts off for two days and it paid off well for us. We landed two nice stripped marlins in one day it was great and I highly recommend this team El budster pride they will find the fish for you. Hugo and Luis there great.
Kev
June 21, 2016
The best fishing trip you could hope for. The staff was very aggressive at pursuing our catch. Even after what most would consider a successful day, we continued to get after them untill we were at our limit. A great experience.
Ed R
June 7, 2016
Just back from annual 2 week excursion to Cabo San Lucas. Fished 4 days on the El Budster with Endy and Ishmael. Caught a total of 27 tuna, 2 marlin, 1 huge grouper, 1 sierra, 2 snapper and half a boatload of triggerfish (which I learned make excellent fish tacos). Wind was tough most days so made a run to the outside early and then back for inshore species as the waves increased offshore. I've been fishing with Salvador's team for a long time and it just seems to get better every year. We like to catch species we can eat so don't focus much on the marlin. The tuna and grouper were fantastic prepared at Mission De Kino, Don Sanchez in San Jose, Soloman's Landing and Alexander's. If you want to have as good a shot as any at catching fish in Cabo, give Salvador a try. Either boat, the El Budster or the El Budster Pride, will work as hard as any crew in Cabo to make your trip with them memorable.  
John
May 16, 2016
I've been fishing with El Budster and Salvador for over 15 years. The staff is always excellent, taking great care of my guests and myself. This trip was on the original El Budster with Capt. Andy and Ismael. Took us out for the day and came back with a nice Wahoo and several tuna. Lunch was great, beer was cold and the trip was superb. Thanks guys!!!
Tim
May 10, 2016
My family and I (2 girls, ages 15 and 16, and son age 13) had a wonderful day on the El Budster for a day of fishing this past Spring Break (March 2016). The captain and his crewmate were excellent and not only did we catch a lot of beautiful fish, but they were able to point out dolphins and other sea life to us while we were out in the ocean. The boat was very clean and spacious, with a nice bathroom and kitchenette/eating area. I would highly recommend the El Budster fleet for your next fishing outing.
May 10, 2016
Amazing trip and great work driving and assisting by the boat crew! Very helpful in identifying fish, when sharks were present to steal your fish and encouragement to get it in quick! Great price, great team and I strongly recommend this charter!
Greg Y
May 6, 2016
My Wife and I were in Cabo San Lucas for our 20th Anniversary. We went out on Monday May 2nd 2016 on the hunt for Striped Marlin. My wife had spoken with Mike Hill, who said that they would certainly try their best to hook us up with a Marlin. We first landed a 40 pound Crevalle Jack, what a fight! Then about an hour later, the crew, Hugo and his first mate spotted and chased down a Striped Marlin and we were able to hook him up! 92 inches aprox 120 lbs We tag teamed him!! Thank you El Budster Pride, we had a great time… Lifetime memory. Thanks Mike Hill and Mexico Mike too! Thanks to an awesome crew with eagle eyes!
April 26, 2016
I finally took the time to post, we fished with El Budster several weeks ag and had a great time. On day one we caught 3 marlin and several tuna, including a striped marlin weighing in between 160-170 lbs. I will be having a replica made of the fish for my office! I plan to come back later this year with this same group. Great fishing for all! Highly recommend El Budster-Salvador's Sportfishing.
Craig T, Bellevue, Iowa
March 16, 2016
This place was recommended to me by my uncle who is an avid fisherman. Went fishing with my dad and brother had a great time with a solid crew. We all pulled in a Dorado. I had talked to others that weekend from other charters who didn't pull in anything. These guys know what they're doing; expect to get lucky.
Gaberiel G
March 11, 2016
Fished all over the world and this was one of the best. Hugo and Luis efforts to get fish were great.7 big Spanish Mackerel were in the box when had a big Jack up to the boat,leader in Luis's hand and along comes Mr. Sea Lion and cleans the fish off the hook! Something to see. This was all happening while the other boats were getting NO FISH! What a way to celebrate a 75th birthday.
James K
February 28, 2016
Great boat, great crew, Hugo and Angel, who were awesome fishermen and knew exactly where to go and what to do. I had a great time and a great couple of days off shore fishing. I am an experienced fisherman and I've fished all over the world and I highly recommend this boat and crew. When the majority of other boats came in with no fish, I caught what a came for, a stripped marlin. I will definitely be back to fish again on the El Budster Pride. I you are looking for a good time fishing in Cabo San Lucas, don't hesitate to charter El Budster. They are the best.
Lloyd G
February 15, 2016
The crew was great and very aware of the "hot spots" around Cabo to catch. We trolled for a few hours and caught a couple of Dorado, then the captain spotted a marlin on the surface and we got a chance to hand-cast to it, but no luck.
After several hours, the captain took us to a reef and we switched from trolling to deep-sea, using live bait and handheld rods – quite the change from what I'd ever tried. After only a few minutes, I hooked into a monster striped marlin at about 75′ down for a great 45 minute fight. I was impressed that the crew told me exactly how much line to feed out and what to feel for; quite the rush feeling that slight tug on the line and then having the line strip out, all handheld.
We had a full cooler heading back to the States.
Dave O
February 8, 2016
Another EPIC fishing trip in CABO on the El Budster , during which we hooked up dolphin, tuna, striped white marlin and the mighty Blue Marlin. Attached photo is a 120lb striped white marlin which we quickly released back to the ocean. During the trip I experienced the most incredible fishing moment of my life. While trolling and sitting on the bridge with Captain Andy we heard a loud bang and a saw a explosion of the water next to the boat. We immediately saw that the large wooden teaser we were pulling on a cord for attraction only was gone. Whatever it was attacked the teaser and snapped the heavy cord like a thread! Within moments the rod on the bridge was bent in half with the line screaming out. Shortly the line going out slowed and Captain Andy handed me the rod from above. Within seconds the rod was once again bent in half with the line once again screaming out. Within moments I was being pulled towards the back of the boat and realized I was going to be pulled overboard! In a split decision I dropped to my kness and was immediately pinned up againest the back of the boat. With very little line left on the reel the captain had the boat in full reverse! So now I am on my bleeding knees with water pounding on me from the boat in reverse and I look out and there it was, one of the beast of the sea! It was a 500lb Blue Marlin that was totally out of the water except for its tail and dancing across the horizon!!! It looked more like a bull than a fish! Over the next hour we were able to gain back some line and then suddenly the line became limp. The hook had worked its way loose. After being pissed for a hour I realized it was all good. The beast had showed itself and its power and was once again in the deep blue where it belonged) PRICELESS!
Mark S
February 4, 2016
Our trip started at 6:30 am on Jan. 19th 2016. We met Capt. Hugo and Luis on the El Budster Pride for our adventure. We decided to try for Marlin as they had been having good luck recently with them. As we motored out of the marina the sun was just starting to peek out. What a beautiful time to be on the water . A male Humpback whale soon performed a full breach out of the water as if to welcome us to his domain. I was hoping it was a good luck sign. We headed up the coast north trolling as we went. The crew was in a good mood and I could tell have done this many times before. The boat we were on was immaculate. Very nice accommodations for me and my wife. The bathroom was spotless and clean. We have been fishing there since 2001 and this is the finest cleanest boat we have been on. We hooked up with a big Marlin about noon. I fought him for almost 15 minutes before we got him beside the boat. My intentions were to release him but the Captain informed me he was hooked too badly. So we boated him. He ended up being almost 8.5 feet long and almost 200 pounds. After that we celebrated by eating our sack lunch that was provided by the crew. It was great ! And we were on top of the world! I will definitely be back! I would highly recommend El Budster if you want to catch a big fish in Baja!! Thanks so much guys! See you next time
Rob W
January 20, 2016
I highly recommend El Budster. Informative crew and captain. Meticulously clean and comfortable boat. Afre we returned with our Marlin and Dorados, they escorted us to Griselda's Smokehouse to get them prepared and packed. We felt comfortable and taken care of. An exceptional experience.
Randall S
January 16, 2016
We fished with the El Budster in November. It was a wonderful trip. We caught a lot of tuna and one Marlin. My husband crossed another one off his bucket list The captain and crew were wonderful. They made the trip fun.
January 1, 2016
It was an unusual cool and cloudy morning in Cabo, but Salvador, Mike and their crew made it an exceptional day for us. A truly trustworthy Fishing Charter company. I booked them after reading reviews and speaking to them on the phone. Everything was as expected. Transparent pricing. No hidden costs at the end. The crew made us feel like it was our boat. And to top it off, we caught 3 Marlin on the day.
Visited December 2015
Jeff B

November 24, 2014
Jim & Salvador,
This past week marks the 14th year I have chartered with El Budster.
Every year, and I mean 14 straight, I and the members of my party have caught marlins. We have also taken countless dorados and tuna!
I cannot recommend the folks at El Budster highly enough. From the quality of your dock office folks who get us checked in and licenses completed, to the mate who makes sure our dorados get fileted properly.
Your Captains and mates are consistently top notch, experienced, and all have had a great sense of humor and interaction with all of us. The 'on boat' experience is always informative and great fun.
Looking forward to year 15 in November 2015!
Best regards,
John,
Nashville, Indiana
May 19, 2014
Dear Salvador,
I just wanted to tell you what an amazing time Jack and I had on our fishing trip!!! Mike, Andy and Ishmel were so nice, friendly, and helpful, they all worked so hard to insure that we had a memorable fishing adventure. Please know that Jack and I plan on using your service again next year!!!
Thanks for the memories!!!
Lynn and Jack Harding
March 25, 2014
We found out about El Budster from a local fishing charter captain here in Michigan. He was in Cabos the week before us. We are very happy that we listened to an experienced fisherman.
George wanted a big fish. Captain Andy told us that it was rough on the ocean, and our chances of catching fish might be better along the shoreline, but he took us out about 25 miles to get George the fish that he hoped to land. It took about four hours, but Captain Andy saw the flash of the Marlin and Ismael got the bait out in time to catch the big Marlin. Expert boat manuvering and perseverance finally paid off to bring in the big Marlin. It was great to see the happy smile on George's face!! Slime was all over him, but he was beaming.
We continued on and snagged yet another, smaller Marlin. This one took about a 1/2 hour less time to bring in. It was still blue and healthy when we took the photos and let her back into the ocean. Great day!!! We saw sea turtles and Captain Andy stopped since Maco shark were circling. By this time, I, the observer was ready to go in. On the way back, the birds and sea lions were on board hoping for any leftover bait. That made me happy to get the photo.
Thank you to Mike, Andy and Ismael for a fabulous day!!!
Sincerely, Cindy and George
 June 10, 2013
Great day today.
Just returned from another most excellent fishing adventure on the El Budster… water was very rough due to high winds, but Captain Andy very capably maneuvered the boat to give both maximum opportunities for catching fish while achieving a comfortable ride. We caught a roosterfish, a Spanish mackeral (Sierra), and a skip jack. Fun times with two of your finest: Captain Andy and Ismael. Already looking forward to next year…
Thanks, Jim
March 30, 2013
Jim,
Thanks again to the El Budster crew for a great day fishing yesterday! Andy and Ismael were great. With our Marlin catch yesterday there is one less thing on my bucket list. 🙂
The boat looks great after the refresh.
Trevor
January 11, 2013
Great day today.
Catching was not good. Had a great big marlin swim by the boat but wouldn't eat anything. Caught the one bull dorado. Had three tuna on, one monster that came unbuttoned a few minutes into the fight and landed just the one of the three. Tons of whales, two orcas, a mako shark all by the boat at one time or the other.
Captain Andy and Mate Mel were awesome. They busted their tails for us. We had chances and no fault of theirs it didn't work for fish in the boat….that IS fishing and after 35 years of doing this I get it.
What I love to see is two guys going all out as your crew did. I want you to know and I told Salvador and Mike the same thing, they were top notch guys. My Buddy runs a ranch in Central Oregon and he guides for deer and elk. He knows what it is like and he too was impressed by the efforts. Today's crew was 100% better than my last experience and I will request This boat and crew again when I return.
Thank You,
Kevin Pangle
Bend Oregon
Wendy Pangle
Bend, Oregon
September 5, 2012
Jim, Salvador,
I just wanted to tell you that fishing with Andy and Ismael was a true pleasure. They are extremely professional and personable, constantly changing the lures and checking lines until something works. I have fished with dozens of boats in Cabo and this was the best. I will fish with the El Budster the next time I visit Cabo.
Thank You,
Norman Clayton
April 1, 2012
Hello,
Thank you for a great fishing trip on the El Budster. My wife and I will definitely recommend you to our friends! You have the best captain and mate in Cabo. And Mike was a pleasure to meet.
Thanks so much for a trip we will never forget.
Please see the attached photo.
Dan and Betty Davis
White Haven, Pennsylvania
March 30, 2012
Jim,
I look forward to next year! I will definitely suggest your charter to my friends. By far the nicest and cleanest boat we have been on! Andy and Ismael were great professional people and very educational.
Mike
January 30, 2012
Hey Jim,
I just wanted to send a letter saying thank you for everything. We had an absolute blast! Salvador was great to deal with and our guides were awesome. As you know, it was a bachelor party and the groom describes the day as one of the best of his life! We saw tons of dolphins, whales, and sea lions. We caught 9 Yellowfin Tuna on our boat and the other boat caught 5 Yellowfin and 2 Mahi Mahi. We had a great time all around. I'll recommend your company to anyone and will be in touch if I ever head back down to Cabo.
Thanks again for everything.
Chris.

January 29, 2012
Jim
I just wanted to send a note to let you know how much we enjoyed our day on El Budster. Endy & Ismail were both courteous, knowledgeable & fun. I was on board with my wife & 20 year old son on the 16th. Aside from the weather being perfect (which is out of our control!) the guys were ready and willing to assist as needed without being overbearing. I have fished Cabo many times over the years with Minerva, Pisces & others. You have earned my business when we return.
Please pass this along to the guys.
I have attached a couple photos for your collection.
All the best,
Malcolm White & Family
December 2, 2011
Jim,
Just a short note to let you know we had a very good experience on El Budster with Jose and Ishmael. When I return to CAbo I will definitely be booking again with your outfit. As with previous trips to Cabo I learned many new things from the crew and appreciated their willingness to let us call the shots. Jose had no problem with me sitting on the bridge with him and I hope he appreciated the extra pair of eyes when spotting for fishy things in the water.
On our second day, when the marlin hit, I knew it was bigger than most when it jumped the first time. What a thrill for all four of us. Truly a memorable experience.
Again, thank you for everything and a big "Job well done" to the El Budster crew.
Dave Codding
Payette, ID
November 29, 2011
Jim
Just wanted you to know how satisfied we were with our trip yesterday. I have my own boat out of Cape May New Jersey and have run boats and spent over 50 years on the water.
Your young Skipper Victor, is certainly someone you can be proud of. He and his mate Alexandra (sp) worked tirelessly to put us on fish. It was probably 4 1/2 hrs until we raised our first fish. No hook up. Then later we had the big Striped in the baits. Alex worked the switch flawlessly and hooked up. It was my son Tom from Lake Tahoe CA who caught the marlin. I caught the Yellowfin later.
Thanks and I will recommend you often,
Charlie and Connie Wayes
Huffs Church, Pennsylvania
September 30, 2010
It was still dark as I left my room and began the short walk around the Marina to the boat. The flags were standing straight out with a brisk 15 knot wind blowing and I said to myself it's going to be nasty out there today. After picking up my license we left the dock promptly at 6:30 and traveled about 2 miles off shore before putting our lines in at false light 7:00. It hadn't been 5 minutes and one of the outriggers popped, a dorado. 5 mins later a 2nd dorado. 15mins later and I'm into my first marlin, a striped, which began taking line. I'm thinking this is no small marlin as the battle lasts about a half hour. 120 lbs not bad for a old man. We troll another 35mins when another outrigger pops but no hookup. The captain slows the boat and both the mate and captain feverishly pump separate rods when the captain yells big fish on and hands the rod from the flying bridge down to me as I fight to get to the chair. The fish pivots to the right and begins running as we begin chasing the fish at full throttle. I try to reel as fast as I can to get the slack in as the fish is running parrelel to the boat and the line snaps out of the water each time I catch up to the fish. We chased the fish for 20mins before it slowed and dove deep. The fish is still taking line and I can tell from the spool I'm going to be in the backing if the captain doesn't do something quick. I thumb the spool as hard as I can but it barely slows the fish. I signal to the Captain I going to be spooled and he puts the boat in reverse and opens the throttle as we begin backing down on the fish rapidly when I get hit with the first wave coming over the transom. I'm soaked from head to toe. The fish turns abruptly and heads into the wind. Now one might think this should work against the fish but not when we have 20knot winds and 8-10 foot seas. The Captain yells try to get some more line back on before he makes his next run. So I put both thumbs on the spool to apply maximum pressure and begin to pump. After 5 mins I gained maybe 50 yds but the fish decides to run again. I thinking this is hopeless, this fish is too big for the small outfit I using , a 3 O reel and light rod. Most Marlin reels are 4 or 5 O's with considerably heaver rods and much larger line capacity. But since I'm in the middle of the battle there is nothing we can do. The Captain guns the boat in reverse and I get hit again by a big wave over the transom and then another and then another till there is 2-3 ins of water in the rear cockpit. This goes on for the next 10 mins and I gain some badly needed line back on the spool. The fish stops running and I pump as hard as I can but it's a stalemate. Can't gain any line but at least I'm not losing line to the fish. Grab a glance at my watch and the Captain yells your 35 mins into the fish. I'm thinking he's crazy it had to be at least an hour. The next 25 mins are spent exchanging line with the fish. He takes some and I reel some back in. Finally I'm gaining some line and as I look at the spool I can tell I'm getting the fish close to the boat. It's been about an hour and I think I got this big boy whooped. WRONG!!! The Marlin sees the boat and takes off on a run that comes close to spooling the reel again notwithstanding my thumbing with both thumbs to try and slow him. The mate comes down and cleans my sunglasses as they were caked with salt spray. He senses I'm tiring and straps a back harness around my waist and clips the harness to the reel. I spend the next hour fighting the fish and the Captain yells we can see color meaning the fish was close to the boat. I couldn't see it but the mate and Captain could. The Captain yells" it's a big big fish". I'm thinking you don't have to tell me that as my arms and legs are aching from the 2hr fight. At this point I can't budge the fish, it's a stalemate again. I'm beginning to think I'm not going to win this battle and the fish is going to get away. And then finally as if the fish heard me he slowly begins to come up so I could see his color and the dark shadow in the water. He's huge! The fish seems to just give up and I bring him to the side of the boat and the mate grabs the leader and then the bill. The Captain yells "he's in excess of 500lbs and the mate says take your picture as the fish thrashes at the side of the boat. I fumble with the camera and lean forward so I can see the fish for the first time. It's BIG! The mate is struggling trying to hold the fish and yelling did you take the picture, did you take the picture. Since I have the rod in the gimbel between my legs and the harness still clipped to the rod I can't move. I lean forward as best I can and extend the camera with my arm and push the shudder twice with the mate yelling did you take the picture. I yell yes and he proceeds to release the fish and I fall back into the chair exhausted. Well I won't trouble you with any explanation but I got 2 of the best photos of the mate's armpit but no photo of the fish. It will always be remembered as a classic battle straight out of the "Old Man and the Sea".
My dream have been full filled.
Joseph Wasco from Manasquan, NJ
PS: to Jim Dillion
I would have never boated this fish if it were not for the superb job Jose and Ismael did under very difficult conditions and heavy seas! You have a client for Life!
November 28, 2009
Jim and Salvador,
Just want you to know we had a great time this last week. It was our second year fishing with you and once again, we were not disappointed. We limited out on Dorado and slammed the yellowfin. From start to finish we were well taken care of. Kudos to your staff and crew, Miguel, Jose and Fransisco. You guys run a class operation. Look forward to fishing with you next year.
Guy Hesketh
Granby, CT
November 17, 2009
Hi Jim,
I want to let you know what a wonderful time we had aboard the EL BUSTER1. The crew of Jose and Francisco were very professional and a great couple of guy. My son and I caught Marlins, Dorados, Tunas, Roosterfish, Sierra, Hammerhead Sharks, and others. One day was as good as the other, weather, temperature, and scenery were just awesome. We also had the pleasure of seeing whales, porpoise, seals and flying fish. Not to be left out was Mike on shore in your office, he was a great help to both of us, he told us great places to eat, where to have the fish cleaned, anything we needed he helped. The whole organization handled everything just as we were told from the first day I called.
Thank you all
Gary and David Vanden Heuvel
Appleton, Wisconsin
November 12, 2009
Hey Jim,
Just wanted to thank you and your crew for a great day of fishing in Cabo. Victor and his mate were great and really worked hard to get me and my girl hooked up with some good fish. We caught about 10 Dorado and one Marlin. That Marlin fought like crazy. What a thrill fighting that huge fish for over 30 minutes. I think I was sore for a few days but it was well worth it ha ha. We had some great weather that day and it was the highlight of my vacation. Once again thanks for the great experience and I will recommend your company to everyone that travels to Cabo. I have fished in Cabo many times and your boat is the best trip I ever had! I can't wait to do if again next year take care and we will see ya all soon.
Dan Meyer
Cincinnati, OH
October 28, 2009
Hi Jim,
just returned and wanted to get this out to you before the every day doldrums of work started up again. We fished on with on Oct 28 and after 5 times out with you we were not disappointed. Jose and Francisco were great. They kept us on fish all day. My fishing partner who had never fished blue water before was in his glory. Watching Dorado hitting live bait never gets old, but the high light was the sailfish that hit right in back of the boat and stayed aerial for most of the fight. Again my thanks to all and see you next year.
Mike Roche and party
October 23, 2009
Hi Jim,
We had a fantastic day today!! Great Crew!!! We hooked into a stipped marlin, had a good fight then lost it. We were getting triple hook ups on tuna, I believe we caught a total of 9 or 10 nice size ones.
Thanks for everything, your entire staff are true professionals!!! I was able to see Salvador, that made my day, he's a good man!!
Dan
October 18, 2009
Hi Jim,
I wanted to tell you about the great trip we had September 26th, 2009 on the El Budster II. Mike did a great job making all the arrangements and Victor and Ismail put us on the fish. My friend and I caught Tuna, limited out on Dorado and I caught and released a Sailfish while my buddy released a Striped Marlin. We were back at the marina early with a fine catch. I will be back next year and requesting Victor and Ismail.
Tight Lines
Tom Schraufnagel
October 12, 2009
Dear Jim,
I wanted to say we had the best time fishing on the Elbudster II on 10-8-09. We could not have ask for a better time. Victor and Ismal were the best!! I'm sure we will be booking again when we return next year. I will also be referring any of my friends that want to go to Cabo and fish while they are there.
Sincerely,
Mike and Sandy Hines Sulphur
Springs, Tx
September 24, 2009
Hi Jim,
Just had to write and let you know what an awesome day we had fishing with Victor and Ismael. The entire crew, including Mike and Salvadore us from beginning to end, including pictures, cleaning fish, and getting taxi back to hotel! Victor and Ismael made our experience exciting, as they kept us catching fish all day, sometimes working 2 or 3 poles at a time, and even serving this old fisherman a beer in the middle of catching a Striped Marlin! The experience exceeded our expectations. After catching a 275-LB. Marlin, Sail Fish, and five Dorados, we would highly recommend your fishing charter services to anyone we meet who may be travelling to Cabo.
If you would like any pictures, please let us know.
Best regards,
Larry and Cheryl Leair
September 5, 2009
Dear El Budster,
Just wanted to thank you guys for a great fishing experience, My son Dylan and myself fished on AUG 13th and caught alot of fish and had a great time. The captain and deckhand were very professional and put us on the fish all day. We caught some big dorado and wahoo as I have enclosed some pictures. Thanks again.
James Archer
July 15, 2009
Hi Jim,
Jim, I would like to Thank You and your crew (Jose, Francisco & Mike) for a great fishing trip. We did not catch any marlins but we did manage to see 4 of them and we caught 10 tunas. The boat was very clean and the crew was great. When we go again I will look you up and I will mention your boat to all my friends.
Thank You,
Oscar Falcon
April 29, 2009
Hey Jim,
just wanted to let you know how awesome a trip we had fishing in Cabo. Jose and Francisco were total professionals. Being a charter captain myself i can tell when guides are just going through the motions, but not on this boat!
These guys fished from the moment we left to the moment we pulled into Cabo harbor. Jose and Francisco were friendly and always on the lookout for our striped marlin. On our first day we got a nice one! Fishing slowed a bit on the next two days, but the boys still found dinner each night for us. My hats off to yourself and crew! I will definitely be back next season to fish with you guys. I would highly recommend this charter boat to anyone going fishing in Cabo.
Jim , feel free to have anyone email me with any questions about your service.
Thanks, and good luck
Captain Chuck Tullio Hollywood, FL.
September 29, 2008
Hi Jim,
Just a quick note to thank you and the guys on the El Budster! I have fished many, many charters in many places (including 6 times in Cabo) and the crew (Capt Jose and Franscisco) were the best I have ever fished with anywhere in the world! I was fortunate enough to catch 9 Dorado and 1 Blue Marlin and 4 of the Dorado were released and of course the Marlin was tagged and released. Most importantly though, I want you and Salvador to know your skipper and mate are absolutely the BEST! I would not hesitate to recommend them to anyone that wants to come to Cabo for a Charter. It has been a pleasure working with you and your crew. Thanks again…
Regards,
Don
August 22, 2008
Dear Jim and Salvador,
We had another wonderful week of fishing in Cabo on the El Budster. Your crew is awesome and goes the extra mile to make sure we have the best fishing experience possible. They are good friends to us. In our opinion, Francisco is the best captain in Mexico. We will definitely see you next year and many years to come. Thanks for the excellent service.
WE LOVE YOU!!!!!
Mike Hill and Bret Hodne and families.
June 9, 2008
Dear Mr. Dillon:
We are finally back from fishing in Cabo and would like to take this opportunity to thank you for our wonderful charter. We went out on June 2nd with Victor and Ishmael. Those two are quite a team. They worked and got along wonderfully together. They worked extremely hard to catch fish for us. We also enjoyed their company; they were a pleasure to be around. We plan on returning next year and will definitely book another trip with you and your team.
Thank you,
Sam & Denise Dunn
Lubbock, Texas.
April 15, 2008
Hey Jim,
Just wanted to inform you that I had a great day of fishing in Cabo on the El Budster 2. The crew were really great and worked real hard. Although the marlin didn't seem to be too hungry, I did hook onto one! We also caught a mako shark that day! Released it of coarse. It was pretty rough that day and kind of hard to stand up, but hey, it was a good day if you catch fish, right! Thanks again! Larry Shewchuk
February 29, 2008
Hi Jim,
My husband and I fished in Cabo on The El Budster the beginning of February and had a great day! I just wanted to thank you and your crew. We were fortunate to catch 2 Striped Marlin as well as some other fish. We saw Whales, Dolphins and a beautiful sunrise. Thanks again for everything. Look forward to a future fishing trip with your crew.
Shannon and Greg Raitt Summerland B.C
February 25, 2008
Dear Jim and Salvador,
Listen up all of Jim's and Salvador's present customers and future customers: My wife and I booked a one day fishing trip in early January for a trip to be taken 2/28/08. I've have never deep sea fished and I found El Budster on the internet. I paid my $300.00 deposit and starting counting the days that we would arrive in Cabo… On Friday 1/22 we found out that my wife had to have some surgery and her doctor would not let her leave the country… I emailed Jim and told him our plight. He said that if he booked another charter to replace ours we would receive a 100% refund. I wasn't sure he would be able to do that.. Well folks I'm happy to report he did book a charter and refunded our entire $300.00… We are planning another trip to Cabo San Lucas we hope in October and you can bet that we will be booking the fishing trip again with Jim, Salvador and the El Budster.
Jim, thanks for your absolute honesty and your prayers for my wife..
Sincerely, Tim & Linda Wheeler
February 20, 2008
Hi Jim;
I just wanted to let you know that the crew on the EL Budster did a great job for my family in January. The first Marlin was caught by my 13 year old grandson Zach and the crew was awesome with him- that was definitely the highlight. I personally caught my first Marlin after many years of trying. Please keep posting the daily reports as we all still read them daily. We will be back next year and thanks again.
Best Regards;
Rob Roy
February 11, 2008
Jim,
I have to say that Mark and I really enjoyed our day of fishing in Cabo San Lucas. Ishmail and Francisco certainly know their stuff! We particularly appreciated how hard Ishmail worked at keeping lines in the water and the boat clean (not an easy task with all the Tuna!). The Marlin hookup was textbook and was the highlight of the day by far. Thank your team again for their hospitality.
Britt
February 6, 2008
Jim,
We had a great day fishing with Francisco and Ismael! They were great guys and did a super job of making sure that all the gear was taken care of and putting us on fish. We hooked up with a Marlin and absolutely wore out the Sierra with 3 doubles in a row at one point! We are looking forward to our next trip with your outfit. Thanks again!
Cassidy Wagner
January 30, 2008
Billfish Foundation Testimonial
January 15, 2008
Hi Jim,
Just thought I'd leave you a note and thank you for a great time. My son and I caught Marlin, Dorado, and a shark. Francisco and Ishmael are great people.
Thanks
John and Matt Singer
December 16, 2007
Hi Jim,
Just got back from fishing in Cabo and wanted to let you know what a great time we had on El Budster II. The trip on Monday had to be cancelled because of bad weather. We went out the next day on El Busdster II with Victor and Ramon. A great crew! Caught 2 marlins and a large Dorado. We'll definitely book with you again next time we go down there.
Best regards and Merry Christmas.
Sandy Graw
December 10, 2007
Jim,
I just wanted to drop a note and tell you that we had an outstanding 2 days of fishing in Cabo San Lucas. Both Victor and Roman were top notch. They never stopped working, even on the second day when we couldn't hook up with any of the hundreds of marlin that were dancing all around the boat!
I saw that we have been added to the fishing report, which is really great.
Thanks again Jim, we had a great trip!
Andrew Sylvester
December 3, 2007
Jim,
Just wanted to say thanks and let you know how much I enjoyed fishing on the El Budster 1 on 11/27. This trip helped to make my 1st trip to Cabo a memorable one as I caught my 1st Striped Marlin and then watched and assisted my girlfriend in catching her 1st Marlin. After the 2nd marlin Jose asked us if we would like to fish for some dorado and tuna and we then caught 3 Dorado's and finished the day with 12 tuna. This crew was very courteous and professional and you could see that they definitely had a passion for fishing and they really worked hard to make sure we enjoyed our trip. Thanks again, I will definitely be back to fish with El Budster again and will recommend you to my friends.
James Thedford
December 2, 2007
The El Budster Pescado Team,
You sure did live up to everything you said over the phone. I was in town for my honeymoon and was very nervous about picking the right charter. You told me I would catch some fish and boy did I!!! I finally caught my first Marlin!!! I can't tell you how perfect the boat and crew was on our trip. Along with catching a 140 lb Marlin, we caught dinner (Tuna and Dorado…oh yeah a Mako Shark too)!!! I can't thank you enough and you bet, when I come back to fish in Cabo you will be my first call. Thanks
Jay and Diana Henig
Orlando, Fl
November 24, 2007
Thanks Jim-
We appreciate your position on the Marlin and Sailfish. Last year the deckhands didn't follow our wishes, and we ended up killing a a marlin when it easily could have been released. Our wives were on board and they were upset. I'm sure you know what happens with upset women, and the day was ruined.
By the way, we found that your web site was easy to use. It was easy to find your pricing as compared with some of your competitors. They seem to want the customer to call them and then negotiate. If shows a great deal of confidence to put your boats and pricing right upfront. This is my price, these are the boats, how much food and beer do you want, oh and by the way here is what we caught last week. Your prompt telephone call following our reservation immediately put me at ease. As a business owner myself, I appreciate this.
Hopefully the fish gods will smile on us next week.
Bryan Piesczak
November 1, 2007
Dillon Foundation donates Chargers tickets to the firefighters after the October 2007 fires. Jim Dillon is then listed on the donor list in the article, Fans give up tickets to deserving public servants, posted on the Chargers.com website.
October 30, 2007
Jim,
My name is Steve Hanifin and on behalf of my brother Pat and myself I wanted to let you know what a great time we had fishing in Cabo on the El Budster 1. We chartered it on September 18th and 19th. We couldn't have anticipated a better trip. The first day, the weather and seas were fantastic and we caught four dorado, the biggest one going 40lbs. What a great day. Day two was even better. We caught a striped marlin, a sailfish, and ten dorado! Unbelievable. Our thanks go to the crew of the El Budster 1 who worked very hard to get us on fish and also to you and Salvador who run a great charter service. When we return to Cabo, you can bet we will be fishing with you again. Check out the photos.
Many thanks,
Steve Hanifin
October 24, 2007
Jim,
Just got back and wanted to drop you a line in regards to my charter. We have fished in Cabo San Lucas with you now for the 4th year and were not disappointed again. My hat goes off to your crew once again. The day started off great with two marlin hooked up right away. Unfortunately they were dropped before getting them to the boat. For next several hours we watched other boats were hooked up all around us, but no luck for us. As the day ended we were heading back to the marina we spotted a marlin on the surface the captain stopped and we were hooked up in no time. He sent out a second rod and we had then a double on. This time they were both brought to the boat and released. As I said my hat goes off to the crew. There are not many charter fleets that show the dedication to the customer as yours. He could have kept right on going by that fish and called it a day. This type of commitment will keep me fishing you for the years to come.
Thanks to all,
Mike Roche and party
September 28, 2007
Jim,
Just wanted to drop a note to let you know how much we enjoyed our day out on the El Budster. We had a banner day – caught our limit of yellow fin tuna, a 130 pound striped marlin, and two angry dorados. All of which was awesome – but the real reason for this note is to let you know how impressed we were with the whole experience. Our crew – Marshall and Jose (? – sorry, not too sure on the Captain's name) – were exceptionally polite, very conversational, and worked incredibly hard to make sure that all of our needs were met. They were able to efficiently manage four lines, while holding my coke can as I freaked out trying to bring in all of those tuna, and have a sense of humor!
We will definitely be calling on El Budster in our future trips – and recommending you to others!
Take care,
Tracey Heavner
Pine, CO
August 26, 2007
Jim,
I had another great time on El Budster with my youngest daughter and future son in law. I want to send you the pictures of the dorado we caught. The mate and captain worked very hard to find the blue marlin on the second day.
Thanks again and I will see you in Feb 2008.
Donald Bounds
P.S. The five stripped on the first day were great also
August 17, 2007
Jim,
We had a great time fishing in Cabo this past weekend w/Jeff Harness. Our boat caught 2 Striped Marlin, 5 Dorado, and about 20 Tuna in two days of fishing. Sisco and Omar did a great job for us. Also, thank you for the recommendation on restaurants. We ate at the Sleepless Lobster, El Pollo De Oro (twice), Paty's Garden, and Mariscos Mazatlan. All were excellente, and more than happy to cook our fish. We will definitely be back.
Thanks again,
Randal Barbry
August 13, 2007
My name is Don Blount. My wife Kyle booked us a charter on Sunday Aug, 7, for us and our 13 year old son. The captain and mate were truly courteous, helpful and dead on in finding fish. None of us had ever been bill fishing and it was truly unforgettable. We caught 4 striped Marlin that day. I will recommend El Budster 1 and it's crew to anyone who will listen, as I have bored some of my friends already with our adventure.
Thank you ,
Don Blount
August 9, 2007
We fished from El Budster I on 3 August 2007 and we wanted to say THANK YOU! The crew was very helpful and informative and we all had a most excellent time. We caught a 160-lb marlin, a 110-lb marlin, a dorado, and two tuna… the El Budster crew helped us through every step. We will certainly recommend you to our friends that fish in Cabo!
Michelle R. McCracken
Houston, TX
August 7, 2007
Jim:
My wife and I got back from Cabo last week and want to thank you and your crew for a great fishing vacation. It had been one of my dreams to catch a Marlin, and your Captain Manuel and first mate Antonio worked all day to find us the fish. When we did, my wife and I caught three great striped marlin, two on at one time, it was great.
You guys are true professionals. When we got to the hotel, we saw another group that chartered from one of the "big suggested" operations and they were skunked for the day. I felt real bad telling them about our great day.
I am going back to Cabo next year and I will definitely book a trip on the El Budster.
Thanks!
Joel & Rhonda Jurasinski
July 23, 2007
Jim,
Just got back from fishing in Cabo. What a great trip. Caught and released 2 marlins, one about 80 pounds and the other 140 pounds. Awesome. We went out with Fransisco and Omar. These guys were great, we had a lot of fun and the lunch was great. I will definitely recommend you guys to anyone going to cabo.
Thanks again,
Chris.
July 10, 2007
Great vacation!
Me and my girlfriend went fishing on the El Budster 2 on July 10, 2007. The expertise of Captain Victor and deckhand Ismeal was priceless. They both worked so hard to put us on the fish and answer all of our questions. Oh yeah we ended up with 5 yellowfin tuna, 3 of which were in the 60lb range. Thank You Victor, Ismeal and Juan Marcos Lopez of Minerva's Baja Tackle. You 3 are some of the most sincere and honest people. Just meeting You guys made the vacation memorable!
Many Thanks,
Mark and Carol
May 31, 2007
Hi Jim,
I want to thank you, Jose, and Marcial for the two days I had fishing with El Budster last week. Jose & Marcial knew where the fish were both days. The Sierra Mackerals are similar to the North East bluefish the way they bite. I'm glad I got another species to add to the list of fish caught. Both days were filled with Sierra's, Jack Crevalle, Roosterfish, and even a Striped Marlin. I must say the Sierra's are tasty as well.
If I don't see you guys back in the Fall '07, I'll make sure I'll be back in 2008! Thanks again for another great fishing trip! You guys never disappoint!
Take care, Danny
April 12, 2007
Hi Jim,
I just got through sending you the deposit on the trip for July 13th, 2007, through PayPal. I wanted to let you know that of all the websites for fishing that I visited, yours really stood out because of the amount of information it contained. Although I have booked many adventures for my family, I have never booked a fishing excursion before. This one is so important because my husband has always dreamed of fishing in the Sea of Cortez for mahi mahi and other wonderful fish. I want to give him this dream without any problems on his 40th birthday. I want it to be so perfect and your website let me plan it and see exactly what I would be getting and what to expect. It also gave me places that would cook the fish for us–something that my hunter/fisherman husband insists on. I also knew it would be a nice trip for my young son and daughter and I to come along on, because the boat looks comfortable enough for less than avid fishermen to enjoy. I am really excited about this trip and am looking forward to it like no other because it is a total surprise for my husband, who will no nothing about it until the morning of our departure.
Thanks again for your help.
See you in July,
Kasey Patton
Hello Jim & Salvador
I just wanted to say thank you for allowing us to book the El Budster I for both of our trips on Feb. 28th and Mar. 3rd. As we encountered last year, Capt. Poncho and deckhand Omar, proved once again, they had what it took when it came to catching marlin. Our first trip out, we caught and released 4 striped marlin. It was the first time in 10 years that my son had been fishing in Cabo and he was all grins. We even had a double hook-up on the 3rd and 4th fish. Poncho expertly handled the boat and we never got our lines tangled much less crossed. The second trip was a bit slow, but my son landed another beautiful marlin. Our wives' were really hoping we would show up with something for dinner, but that's why they call it fishing and not catching!
I am already looking forward to next year and you can bet, we'll be giving El Budster a call. Please pass on to the crew from El Budster I, a big hello and thank you from Alaska.
Eric Williams
Valdez, AK
January 30, 2007
Salvador & Jim
Back in Canada now, Just wanted to thank you for the great fishing in Mexico! We had two great days even though the weather was not co-operating the first day.
Your entire crew from Pancho on the Dock to Manuel & Crew on the El Budster were terrific and went the extra mile to make sure we were taken
care of.
We will definitely be back!! Just a note some other people at our Hotel had booked with someone else and after I told him about our days he took your name and number down!!
Thanks again for making our trip a great success!
Pat Bell
January 22, 2007
Northridge Hospital Foundation
January 22, 2007
Jim,
Just wanted to say thanks to you and your crews for two great days of fishing. My amigos who fished on the 19th and 20th on (El Budster I) had a great time. Looks like they caught 2 Marlin, 1 sailfish and two nice Dorado which we ended up grilling in our Villa in Pedregal. This is my 5th booking with El Budster and your team has never disappointed. Thanks again!
Ron Vollmond
January 10, 2007
Jim,
Great day today. Francisco and Omar were polite and skillfull. My wife and I asked of them the "simple" request of catching a marlin or two. They were more than happy to oblige. We hit 3 and brought two of those in before releasing them. It was a great experience and we are so excited to tell our friends about the day. I will make sure to refer you any business I can and I look forward to our next trip out.
Thank you,
Grant
December 30, 2006
Hi Jim and the el Budster crew,
Well another GREAT fishing trip to Cabo! Boy for those who have never big game fished they are missing out!! We had soo much fun. The cew (as always) Were welcoming and happy! Manual and Marcial sure do know how to fish and they make a great team. As you know, we released all of the Marlin we caught. It makes me sad to see all of the dead ones at the weigh station (There were several) So since there are no pictures of Marlin, Here are the dorado we caught. Thanks again for a great time and see you again in 2007!!
Happy New Year!
Shannon Kinney
December 17, 2006
I just wanted to let you know that we had a great time fishing in Cabo yesterday. Obviously, we had a great time catching 2 striped marlin, a sailfish, and 4 tuna. The sailfish was such a beautiful catch (and release). Pancho and Christian were a great crew and I will definitely use you guys again as well as recommend you to any friends coming to Cabo.
Thanks again to you and Pancho for a great time,
Kurt
December 16, 2006
Hi Jim,
I fished on Nov 14 and Nov 19 on the El Budster II. I was one of the Henretty party from Benicia, CA. On the 14th I caught 4 Dorado ranging from 25-60 lbs. Our total catch was 12 Dorado! Fantastic! 12 Dorado and one Wahoo. On the 19th I was the guy who caught and released the 120 lb Marlin. What a thrill. This was my first real fishing experience on the blue water. I can't say enough good things about the crew of Marshall and Ismael. They were quick, precise and professional. Our catch bears that out. Very few fish were caught on the 14th. They knew just where to put us so that we were probably the most successful boat on that day. On the 19th when nobody seemed to find anything, they put me on top of that Marlin. Just as he was hooked, another larger fish started dancing on the waves. Our party was so engrossed in the first one that number 2 shook the hook. Our fault. Probably a good thing that it happened that way. It would have been quite a sight if we were trying to land and release two dancing Marlin. The only negative had nothing to do with the El Budster team. The filleting operation seems to be a monoply. Your crew works theis bu–s off to succeed and accomodate the clients.
Ready to book a couple of days for next year as soon as my wife determines our dates for Cabo. Thanks for a great time and the opportunity to fish with the best.
Merry Christmas and Happy and Prosperous 2007.
Regards,
Ed Dillon
Benicia, CA
November 20, 2006
Hola Jim,
Just a note to tell you how much my wife and I enjoyed fishing in Los Cabos with Manuel and Juan on the El Budster.
The first day we caught yellowfin tuna (as requested) and on the second day marlin. The skipper and mate were very knowledgeable and accommodating. We will fish with El Budster on our next trip to Cabo.
Lynne and Sam Fillingame
October 31, 2006
Jim,
I wanted to take the time to thank you and also to thank those that made our fishing vacation to Cabo a fantastic experience. We had such a great time we are planning to make it our annual retreat. Although we had the opportunity to fish with your crew just one day, the professionalism they exhibited along with the determination to put put us on fish far exceeded our expectations. Please personally extend my thanks to Poncho and also to our captain Manuel. Both of them are very deserving of recognition for their efforts. We also fished on the Paulina due to all the El Budster boats being booked where we also had a very good time. Our trip also resulted in a couple of firsts – a Black Marlin and a Pacific Sailfish. Thank you again and talk to you soon.
Brett
October 29, 2006
Dear Jim,
As the owner of a sportfishing charter boat myself I just wanted to say what an outstanding operation you run in Cabo San Lucas. Captain Victor, Poncho and Ismeal went out of their way to provide us with our every need, not to mention the incredible fishing. On the 18th of October we caught six Dorado, on the 20th of October we caught 11 Yellowfin Tuna. We plan on fishing with you again next year.
Sincerely,
Captain Jeffrey Tims
October 19, 2006
Jim,
We had a wonderful time fishing in Cabo last week. The 1st day we did not catch any fish, but the 2nd day we caught 8 dorado and 1 wahoo. It was awesome!! Victor and Ismael were our captains and they did a wonderful job!! They worked so hard to help us land the fish. We saw several Marlin, just did not get one. We are going back next October to try again. We will definitely be in touch. I have attached several of our pictures.
Thanks again for an awesome experience!!
Sincerely,
Michelle Adams
September 17, 2006
Hey Jim,
We just got back and I have to thank you, once again for a great fishing trip to Cabo San Lucas on the El Budster. We had Manuel and Marshall as Captain and deckhand, and we made the haul to the Iman Bank for some wide open YFT fishing. I was glad to see them make the run, instead of taking the short run for Dorado on the Pacific side, which turned out to be great bait only fishing for nice YFT. Unlike some other boats they actually listened to how and what we wanted to fish for and made it happen! The fish report did not do justice to our trip. The reports claimed 20-25 lb tuna and 20 lb. amber jack. Are those weights in kilos?!??!?! We also caught a dorado and a pargo too!!! Check out the enclosed photos and you will see we had a better grade of fish that day! I'm guessing the fish went close to forty!!
Cory
August 27, 2006
Jim,
I just wanted to let you know we had a great time on the fishing trip in Mexico. While we arived a little to early to the Mariana, every other aspect of our trip was excelent. This was our second trip on the El Budster and we will and have recomended your services to anyone and everyone. I believe you found a charter for someone I recomended in October due to you guys being booked already. You guys run a very tight organization and the charity work you do has us all in awe. Thanks for the trip and thanks for what you do.
Chris Abney
Hi Jim,
It's Jeff Saunders, I want to thank you and Salvador for the great boat and crew. We fished EB1 on wed. long boat ride for 1 tuna, saw schools of dorado that wouldn't bite, hooked a sailfish came unbuttoned. On sat 8-12 we had a great day. My son, Josh, friend Mark Rigger, and I were given the choice of where to fish by captain Fransico and Oscar 1st mate or 2nd captain. We went to Gordo Banks and caught plenty of fish. I sure love bait fishing better than trolling all day. Anyway we ended up with 12 nice yellowfin and all the skippys, bonita you wanted every drop was a hook up. On the way in, we trolled a little for a nice dorado. My sons 1st. Can't wait to do it again. I send special thanks to the crew; Fransico and Oscar are great guys. We joked and laughed all day.
THANKS AGAIN,
Jeff, Josh & Mark
Hey Jim,
I seen the fishing report for my whopper Tuna!! WOW! What a blast. I'm sure the guys were sick of waiting for me to get that thing in, but i'm glad they were patient. What a tale! This trip was the first time I personally ever caught tuna. Rod has caught many BUT…. none as big as mine 🙂 We have this ongoing teasing. So far I have the biggest Dorado, marlin and now TUNA! I wonder if he'll keep taking me?? Anyhow here are some pictures. Hope you enjoy and I will be booking soon for December. We want to go back on the El Budster with Manuel (right?) and Marcial.
Oh by the way. Just some info. It almost NEVER is Salvador that meets us at the dock. It's Pancho. And I always call him Salvador. Poor guy. I bet next time I won't make that mistake. 🙂
Talk with you soon!
Shannon Kinney
June 19, 2006
Jim,
Your guys did you proud. Two buddies and I went out on the El Budster on 6/15 and had an absolute blast. 150 lb striped marlin and 10 tuna later the day ended much too soon. The crew was first rate – it was like fishing with two more friends!
Thanks for your help and for your service.
We'll be back.
Bob Bishel
Novato, CA
May 30, 2006
Jim,
As you know, we had a great time sport fishing in Cabo on the El Budster both May 24 and 26. To catch and release 5 marlin in one day was beyond my wildest imaginings, and what a great memory for me and my three children — all of us catching our own first Marlin the same day! Not mentioned in the report was the fact that we actually had two more hook-ups–one very brief, and the other a near-boat "early release". If we had not run out of live baits, we might have had several additional catches! Fishing on the 26th with my brother Don Vaskey from Anchorage was a bit tougher, but a nice striped marlin and a good sailfish (it was bigger than 70 lbs I think!) certainly qualifies as a very good day. We saw and worked a lot of billfish that day, but they were pretty finicky. Seeing lots of big manta rays "surfing" in the swells was an added bonus.
My compliments to you and Salvador on a very professional and quality operation. Captain Manual and deck mate Maciel (sp?) worked very hard for us both days, and it was nice being able to communicate with them pretty well. Manual mentioned to me that we just needed a little luck, and when you combine that with a good clean boat, good gear, good baits, and a great crew, you just might end up with the success we enjoyed. I look forward to many additional trips on the Budster boats in the future. You were all a pleasure to deal with in getting this set up and following through.
Gordon Vaskey
Denver, Colorado
May 28, 2006
Hi Jim.
I just wanted to drop you a note to let you know how pleased we all were with our fishing trip on your Charter on the 27th. Although the fishing started a little slow, we made up for it later in the day. We managed to bring in two Marlin and we lost count of how many more we tried to hook up. The Marlin were not as interested as we hoped they would be.
Manuel and Marciel did such a good job getting onto the fish – it was so funny, I told Manuel, "all the boats are over there (11-50 reef) but all the Marlin are right here where there are no boats". He smartly replied, "follow the fish not the boats!". They both worked so hard for us and you could tell they both love to fish as much as I do.
It was a great experience and I can't tell you how happy I was to charter your company. Everyone from you to Pancho, Salvador and our crew was fantastic. You know already that I would highly recommend anyone choose your company.
Also, the fact that we were able to tag and release those beautiful fish back into the the sea made me feel even better about our time on the water.
Once again, thank you and Salvador for your excellent service and a special thanks to Manuel and Marciel for their hard work that day.
Best regards,
Stefano Francescut
Edmonton, Alberta, Canada
May 2, 2006
Jim,
We had an awesome time!!! We brought 2 Marlin up to the boat. We had 2 more on the line and they got away. The last one was a "monster", too bad we did not get that one in. Your guys were great. In know some boats did not get any fish. I'm convinced our success was because of Marcel and Andy. It was nice having things all arranged too, there were alot of people "approaching us". Again it was nice to know we were all "dialed" in.
Thanks again – you will hear from me next year!
Brad
April 22, 2006
Dear Jim:
We had a GREAT time. This was my first fishing trip, and it was a supurb.
Lots of thanks to the crew, Manuel and Andy. They were courteous and professional. Most of all, thank you for your generocity and accommodation. I would recommend the El Budster to all who seeks a fun fishing trip in Cabo. Will definetly book again.
Thanks again for a memorable trip.
Miriam Wu
March 18, 2006
Jim,
The presentation of your web page and your personal response by phone was what made up our minds to charter with you. Other responses I got back, didn't even answer my questions, but a couple wanted to sell me a condo. We are glad we went with your company. The El Budster is a beautiful boat and the gear is about the best we've seen. The toilet even works. In 2 days of fishing on the El Budster we caught 2 nice striped marlins, which was a double header. We had to change seats a number of times to keep the lines clear. I think the marlins had a plan, but Manuel had a better one. A 3rd baitfish was flung out, but luckily for us he was bit in half so we only had to work on 2 at a time. 2 fishermen and 3 marlins?? We also caught two 25 lb dorados, which are in our freezer. We chased a swordfish around for about 20 minutes. The baitfish landed on his head 3 or 4 times but he wasn't interested. The crew was not happy because they said that swordfish are rare. The skipper had only ever caught 3. The crews were very friendly and professional. This is our 5th fishing trip to Cabo and I can definately say that we will charter with you again. Nothing beats trolling in the sun with your wife ( a buddy works as well ) and a couple of cold cervezas.
Thank you and we'll see you again.
Robert and Nancy Buss
Vancouver, BC
March 2, 2006
Jim,
I wanted to drop you a note about your "El Budster" website. Over the past several years, I've visited numerous fishing sites and I must say yours is one of the best around. Your site is packed full of everything you need to make an informative decision on fishing in Cabo. It even has an "up to date" fishing report ! (what a concept). I also really enjoyed the on-line video (nice idea). If our upcoming fishing trip in April is anything like the professionalism of your site, it's going to be sweet! Counting the days,
Mike Reitman
Gardnerville, Nevada
February 22, 2006
Dear Jim,
I wanted to thank you for arranging our fishing day in Cabo last week. When the Cruise line changed dates, you worked diligently to make other arrangements. While our connections were by voice mail, arrangements were made in good order.
Your efforts went beyond what would have been expected.
My son caught his first marlin, as you know always a thrill.
Regards,
Steve Marr
Joshua 1:8

Jim,
Thanks for the immediate response today on my reservation request. Wanted to let you know that during my on-line search for a Cabo fishing charter, the "elbudster" website played a key role in my final decision. The website is put together very well, user friendly and has the pertinent information that someone like me, who is a charter first-timer needed to feel more comfortable in making that decision.
The website also comes across very genuine and the video presentation is great, something no-one else really has. I watched it twice and will probably do so a few more times before the trip. Can't wait to go fishing on the El Budster.
Thanks
Ryan
February 14, 2006
Hola Jim and Salvador,
I've been meaning to write to tell you, once again, how much I enjoyed fishing aboard El Budster and El Budster I this January. This time we had to deal with some nasty weather and colder temperatures so the fishing wasn't quite as good as we hoped. Still, the captains worked hard and put us on marlin, tuna and dorado. One of my friends caught his first two marlin and is now, I'm afraid, hopelessly addicted to bill fishing. Another friend was aboard when we got into that school of 40 to 60 pound tuna and now finally believes what I've been telling him for years — that nothing fights like a tuna!
You guys run a first class outfit. You'll see me again this fall.
Tight Lines and Following Seas,
Bill Brown
January 11, 2006
On the EL BUDSTER II. Mark Hanson and his wife and two daughters catch five YELLOWFIN TUNA. All the tuna are between 20-25 lbs. All of the STRIPED MARLIN were caught at the Lighthouse Reef. The YELLOWFIN TUNA were caught 12-14 miles out from Cabo. The water temp. was 74-75 degrees. MERRY CHRISTMAS
Jim..
Thanks for the great trip, I will be back in a few months..You guys are Great. The crew was awesome. I would recommend you folks to anyone that wants to fish in the area..Your crew had great information and was very helpfull..What a great way to spend Christmas Eve.
Take Care
Mark Hansen
December 31
Hi Jim,
Just got in from Cabo. My family & I had a fantastic time. In total my father & I caught 6 Marlin in 3 days fishing on the Budster I. Our Captain Francisco "Pancho" was a joy and He really made an effort for us to have 3 successful fishing day. I will definitely be returning and will be looking for Francisco as my captain. Please pass on my praise to Francisco. I have great memories of my time on the Budster.
Happy New Years,
Peter
November 21, 2005
Just wanted to write and tell you how great my fishing trip was on the El Budster II on Nov 16th, 2005! I landed 2 striped marlin (110 & 120 lbs) and had the time of my life. The captain and crew (Victor and the guys) were extremely helpful and friendly, and did everything they could to make the trip successful. I even got a movie of the landing, boating, and releasing of the marlin.
My fishing buddies are already wanting to start planning a trip there for next year, and we will definitely contacting you guys then.
Thanks again, to you, Salvador, Victor, and the guys, for the best fishing trip of my life!
Larry Teames
Chandler, AZ
November 20
Jim,
I just wanted to thank you and the crew of El Buster. I caught five Marlin in one day!!! Best day fishing I had in my life time so far. I hope to return next year.
Thank you,
John P. O'Connor,
Folsom, California
November 5, 2005
Hi Jim, I just wanted to say thank you for the great time I had while fishing on 10/25,10/27. The crews on the El budster, and El Budster 1, Manuel, Andy, Poncho, Omar and Salvador were as always outstanding! We caught my first Blue marlin, a sailfish, 5 Dorado, 2 60lb Yellowfin tunas and fought a definate monster for over four hours, when the fish was at the leader the hook pulled, oh well can't catch them all. I was sore for a week. We had a great time, and that is why come to Cabo! You are the best charter fleet in Cabo as far as I am concerned! Keep up the great work! I will be talking to ya soon to plan another trip!
Thank you very much!!!
John Meyne,
Las Vegas NV
September 26, 2005
Hi Jim,
Just wanted to thank you for coordinating everything– in case you did not hear, we had a great day fishing! We went 3-for-3 on the striped marlin, one of them nearly 200lbs, along with 3 Mahi up to 30lbs which made for a delicious dinner for our entire party that night. Best trip out of the marina that day– thanks again!
We will be back….
Garrett Fisher
August 5, 2005
Greetings Jim,
Just wanted to drop you a line about our recent trip down to Cabo. It was a great trip fishing with Victor aboard the El Budster II, My wife caught her first Dorado and Yellowfin Tuna. The hands were very patient and helpful as she is not the most experienced angler. I also caught my first Marlin and yellowfin tuna. Anyways I will be back to fish with you, I am trying to get out of my elk hunting trip to Colorado so I can come back in October. I can honestly say it was the best sport fishing trip I have been on and Victor was very informative in what was going on when the hands were scrambling around trying to catch one of the many Marlin we spotted but just could not get to bite.
Many Thanks
Alan and Carrie Jones
PS: Juan at Siesta Suites was also very helpful and their hotel was very clean and comfortable.
August 02, 2005
Hey Jim,
Just wanted to extend my thanks to everyone at the El Budster for a trip gone great. Everyone in our party had an excellent time fishing and had a great time in town. Siesta Suites is the perfect location for accommodations. walking across the street to the marina saved all of us time and money. we are looking forward to making this an annual trip since we had such a good time. I personally want to thank captain Poncho and deck hand for the hard work and effort they put in to catching the fish we wanted to catch. This was the boat that I was on and the other party had Salvador. they want to also extend their same gratitude to the crew. I plan on recommending everyone I know that wants a good fishing experience to go through the El Budster.
Thanks again and I will talk to you soon on our next trip.
Chris Cocores
Jim,
I wanted to take a few minutes to let you know how much I appreciated the crew on the El Budster I and the job they did for me on 7/24/2005. I had a fear that the aftermath of Tropical Storm Eugene would mess up the marlin fishing and it did. However, the crew in my opinion, really "worked their tails off" trying to get me a hook up.
Just about the time I had given up, they put me on a really nice fish (140lb Marlin). One that I can talk about some until next year when I come back. They already know it, but please tell the crew how much I did enjoy the day with them and the job they done for me.
See you guys again next year
Larry
Jim
We just got back from our trip and I wanted to tell you what a great time we had fishing on the Budster. Our first day my boys and I caught and released 4 striped marlin and we jumped another 2 that we lost. The second day was almost as good, catching a releasing to more striped marlin. The boat, the crew and the fishing were absolutely outstanding. My kids had the time of their life and your guys were great with helping them fight and land the fish on their own. Thanks for a great time and great memories.
Michael
Jim and Salvador,
What can I say? Awesome does not seem to describe it enough. We booked El Budster for 7/16/05 and had Manuel (Captain) and Andy (1st Mate). After catching a nice yellowfin, Manuel pulled his magic and hooked up a nice marlin. While fighting that one a second marlin was hooked up so we actually were fighting two at the same time. Though we lost one, one was brought to the boat marking my first ever marlin. The experience of having a marlin on the line was thrilling but finding out that both Teresa and I each had one on at the same time was one of the best experiences of my life.
When we returned to the dock we were fortunate enough to find out that the El Budster I was available the next day and quickly snatched it up. That day we hooked up three marlins and brought them all to the boat.
Both crews were outstanding – and the boats were more than I expected. I will gladly recommend your company to anyone heading to Cabo.
See you next time we are in Cabo – which will not be long.
Best Regards,
David T. Querio
Hello Jim,
Just a word of thanks for another great charter experience for my wife Tina. She had a great time even though she didn't catch anything, and the captain and crew were outstanding. She knows why they call it fishing and she is more eager to get back out there and do it again, and so am I! I am trying to work up another trip for both of us around September. I will keep you posted.
Thanks again!
Craig Calhoun
Jim:
Just to let you know, we had a fantastic fishing trip on board the
El Budster I. Francisco and Omar were great and put us on fish several times. In slightly less than 4 hours of trolling, we had 7 hook-ups. Jeannie lost a 20lb. Yellowfin and after 15 minutes of fighting, I lost an app. 180lb. Yellowfin. We did get to the boat, tag and release (3) 100lb. Sailfish and (1) 160lb. Striped Marlin. Again, it was an excellent trip and we will be back on the El Budster I. We passed your card to several people at the hotel who were considering going fishing.
Thanks again, Bob Wullschleger
Dear Jim, Salvador, and Poncho,
After months of searching the web for "Fishing in Cabo", I came across your site and was so very glad I did.
My life long dream was to go deep sea fishing and catch a Marlin, You and your crew made that happen and I just want to thank you and tell you what a wonderful, professional, and fun crew, my wife and I had on the El Budster boats.
We caught three Marlin, three Sailfish, and seven Dorado!!!!!!! Couldn't have had a better time, I believe, on any other boat available!!!!!!
We recommended a group of guys from Texas when we got back to our hotel, they went straight to Poncho and he helped them out for the next two days and they were happy also….
Keep up the great work!!!!!!!!! We will see you hopefully in October and many more times ahead!!!!!!!!!!!!
Sincerely,
John and Shelley Meyne
Las Vegas, NV.
Dear Jim and Salvador,
Thank you for another fantastic fishing trip.
My wife Karen has never gone fishing with me and it was fun watching her reel in her first tuna!
She had enough after that and it was a beautiful day on the water for both of us.
Captain Salvador and Andi have a keen sense for finding the fish and I learned a lot from both of them.
They were always professional, courteous and friendly.
Fishing on the El Budster was again the highlight of my trip to Cabo.
Thank you also Jim for the accommodations that you recommended.
I have something very special to look forward to next year!
Wishing you the excitement that you offer to others every day…
Thank you again,
Phil Kniskern
Lighthouse Point, FL
Jim,
I just wanted to thank you for all of your help in setting up my fishing trip next week. I have to tell you that after searching the web for the past 6 months and comparing fishing charters, your seems the best. It is a credit to your website as it is professional, easy to navigate, shock full of information and gives one the sense of security.
I have to say that your website has sold me. Thank you again for your help and your great website.
Lou Carletello
Jim,
Thanks to you and your excellent staff in Cabo, my wife and I had a great day fishing on the El budster I. Fransisco and Omar worked very hard to give us a successful trip!!
As you know when dealing with mother nature, nothing is a sure thing. But your crews worked very hard to try and put us in the best position to catch fish, and that's all anybody could ask. Due to these efforts we landed 3 Striped Marlin and a tuna. Wonderful day on the water!!
Thanks again to everyone, and you can be sure, we will see you soon!!!!
Dick & Gaylynn Masceri
Good Morning Mr. Dillon,
Thank you very much for your quick call back concerning my up-coming fishing trip.
What helped me to make my decision to call you, was your web site. It was very well done and answered every one of my questions that came to mind. I really like the extra details that went into your web site as well, for example, the flashing cursor that turns into a Marlin or sailfish as you scroll through the selection bar, that caught my attention right away. The pictures are very well done and you can see each fish very clearly, I especially enjoyed the dock photos as you can see the weight, type, time . etc., No "fish stories" just the facts.
Your web site was one of the better ones I've seen for fishing trips to Cabo and I really appreciated the other details you provided, like hotel information, restaurants.
The only change I would recommend is a place on your site to purchase your shirts. Once I complete my trip details I would like to buy a nice golf shirt (shirt with collar) with your logo on front left and really big logo or picture on back, so everybody who sees me traveling down, will know that I'm going on the adventure of a lifetime. Plus the advantage of the golf shirts are, I can wear them to casual office day (we have to have a collar).
Again thank you very much for your call back and I will be in touch as soon as possible to firm up my plans once I know them.
Sincerely,
Michael Flynn
Hey Jim,
Just wanted to let you know what a great job Omar and Pancho did for us on Monday. David caught and released his first Marlin! He was thrilled and it was great to see him so happy! The crew was very impressive!
Pancho spotted the Marlin and Omar hooked it with perfect timing. We had a great time! Next time we go to Cabo, we'll definitely give you a call!
Thanks so much,
Tracy & David
Jim
Just got back tonight…….had a great time. The weather was fantastic and the fishing good. Went out with Salvador twice and Pancho once. We got 2 marlin(165lbs & 130lbs) which we released, a couple good size jacks and a rally nice 60lb wahoo. Lots of other hits, several other marlin hookups……great overall. We really enjoyed Salvador….he's a great skipper!
They said you were coming down soon….hope the fishing is good for you too. Many boats brought in tuna….but they were pretty small. Sleepless Lobster and Miss. de Kino were great like always.
Thanks again for the assist………….
Bill
Hi Jim,
I never wrote to say thanks for a great day in Cabo. We fished with El Budster on 4/5. I had 2 kids with me…their first time fishing. We hit a great school of small tuna and they were perfect for the kids. At times we had 4 knockdowns at once! The kids caught over 20 on their own and now they are hooked!
The crew treated us great and were very friendly. We all loved Cabo and we will be back soon. I am also trying to put together a fishing only trip with some friends.
Thanks again for all of your upfront help. Feel free to use us as a reference!
Larry Cain
Hello Jim!
I just wanted to send a quick thank you for such a great charter on Saturday. Todd and I enjoyed our trip very much. I wanted to pass on to you, as well, how much we enjoyed fishing with Luis and Luna. They were a great team. Todd and I were extremely impressed by their professionalism as well as their desire to make sure that we had a successful trip. Despite the weather, they pressed on and worked very hard to make sure we got our money's worth. Both of us appreciated that very much.
Once again, Jim, thank you for putting together a great crew. I will pass on your name to other's interested in fishing in Cabo and will definitely contact you when we are back there.
Once I get them developed, I will send off the pictures, too. We took some great action shots.
Please pass on our thanks to Luis and Luna too!
Sincerely,
Kim Sigelman and Todd Jester
Dear Jim,
I just wanted to let you know that my wife and I had the absolute best fishing trip with your crew. We went fishing in Cabo with your guys on September 17th and had the best experience. The crew knew what they were doing, courteous and most of all very friendly. Without them I would have never caught my first Blue Marlin. I have already told all my friends about how great the trip and experience was and when we go to Cabo next year we are definitely going to use your charter again! Can't wait to see the guys next year and catch some more fish!
Thanks for the trip,
Brandon Dunbar

Dear Jim,
We have just returned to Pittsburgh after spending a week in Los Cabos and three days on the El Budster I. It was a memorable time and one that I will not forget. One of my dreams was fulfilled when I hooked a large striped marlin and nearly landed it. It was within 20 feet of the boat when I lost it but the thrill will be unforgettable. Hopefully I can fulfill the last part of my dream and charter with you again and this time put the big guy in the boat.
Our charter was excellent as the boat and equipment were both clean neat and very first class. Your crew of Roberto and Rano was an exceptional find for us. The crew was very polite, personable and helpful. We would hope that if, no make that when we book the next charter with you that we will have the same crew on El Budster I.
Thank you for providing us with such a memorable fishing trip and may you have the best of everything in the future.
Dick Kirschner
Fishing on your boat was great.
Just wanted to drop you a line to tell you that we had an excellent time fishing. We didn't catch any Dorado or Tuna, but maybe next time. The experience of catching my first marlin will bring me back.
Your guys, Salvador and Armando, were terrific. Very professional, friendly. Everything was on time. The boat was neat, clean, tidy. Your equipment is top notch (not always the case) and well maintained.
Armando was good to work with, really helped me handle the marlin. Next time, I will feel a lot more confident. Both my buddies had a good time as well.
Thanks again, Jim. It was a pleasure doing business with you and the El Budster crew.
David Flynn
Jim,
Just wanted to let you know we had a great time. Looking forward to next year. Salvador does a great job!!!!
Thanks for all your help couldn't have done it without you.
Jeff Winslow
Jim,
I wanted to take a moment to send you this e-mail to let you know what a great time we had fishing on the EL BUDSTER. The fishing charter was top notch Salvador and the crew were excellent. They knew exactly what they were doing which is why I was able to catch my first Striped Marlin. I would personally recommend the EL BUDSTER to anyone who is planning a fishing trip to Cabo. We will cherish are wonderful memories for years to come.
Mike and Susan Yager
Sir,
Salvador and Armando were both great. We caught five Dorado and a 120lb. Striped Marlin which we tagged and released. We left at 6:30 AM and returned on time.
Terry Whitson
Hi Jim…
We had a fantastic trip to Cabo this year. Fishing on the EL BUDSTER was super. Thanks to all . We caught a 55lb. Wahoo, a Sailfish(120lb.) and some nice Dorado.
I will recommend without any reservation, the EL BUDSTER and your team to anyone who would inquire. To have an adventure of this magnitude go off without a hitch having been made solely on the Internet is delightful.
Best regards,
Bob Short
Jim,
Just wanted to let you know that we had a great time. Looking forward to next year. Salvador does a great job!!!
Thanks for all your help couldn't have done it without you.
Dave Stevens
Dear Jim,
I would like to thank you and your team in Cabo for a fantastic fishing vacation last week. I have fished Cabo the same week for 6 years and this was the best. We were there 11 days and wanted to stay another week. Danny at the Mar de Cortez Hotel was a pleasure to do business with. Thanks again for the great trip, hope to go fishing with Salvador Charters again real soon.
Larry Ellis
Jim,
I just wanted to drop you a note and say that we had a very good time fishing with Reece and Armando on Easter Sunday. The first Marlin we hooked actually took all of the line off the reel before we even knew what happened, I was able to land the next 125 lb striped marlin and after taking some pictures we released the fish back into the ocean. The 3rd marlin actually bit one of the hootchie lures but wasn't hooked very good as it ended up shaking the hook after a minute or two. I would like to come back in the future and was wondering what time of year was best for the black, blue and striped marlin. I would also really like to be able to hook into a yellowfin tuna as well.
Thanks again,
Rich Eakins
Hi Jim,
We had a great time. Caught three tuna and had the resort cook two meals for us. Just wanted to tell you how much we liked the crew, took good care of us. I will use them again when I go back and recommend them to others.
Thanks,
John
Jim,
Thank you for setting us up with El Budster, Salvador, and Andy. We had a great time and the fishing was a blast. Just in case you did not know, Salvador went out of his way to try to get us a billfish. On our way back in, he spotted a swordfish and we spent 45 minutes and four cavallitos trying to hook it (it managed to take three of them without a hookup).
I do not know when we will be back in Los Cabos, but when we are another day or two on El Budster are a certainty!
Thanks,
Aaron
TO JIM DILLION AND MR. SALVADOR,
Just wanted to say thanks for a most memorable time in Cabo San Lucas, words cannot describe the how I felt that day. My wife as well was very impressed with the service and expertise that Salvador and Pepe displayed. I have been on many fishing charters and this is the only where I felt that the crew was actually working to find and catch fish, this was not just a boat ride or a sea tour of the Cabo!!!! Even though at first it was slow and people around me were hooking up on marlin they (Salvador and Pepe) reassured me it was going to be my time soon!!!! And sure enough it was my time!!! To tell you the truth Cabo is Lucky to have a crew like the El Budster, We actually started planning our second trip back!!
Just like to say many thanks to them…as well as Jim for his insight on the El Budster!!!!
Many thanks,
Jay Rayngay
Jim,
Tim and I just wanted to share with you some of our pictures from our Great Fishing of three days aboard The El Budster.
We had three great days of fishing thanks to Salvador and Andi. Salvador definitely knew where to find the fish. Andi was well trained at deck hand.
We look forward to our next trip to Cabo. And We will definitely be on The El Budster.
Happy Fishing,
Tim and Angela Farrell
Jim:
I looked long and hard at what was out there before deciding to book with you this year. It seems like almost every Cabo-related site I visited had a link to "El Budster." You've put a lot of effort into what you and Salvador are doing, and it seems to be paying off. The only thing a person can expect is an honest effort by his captain and crew, and I certainly received that this year. I look forward to the trips to come.
Even before I boarded my flight in Dallas last month, people were asking me if I was going to fish, and who I was fishing with. More of the same at the Solmar. I gave Salvador's cell number to a couple of them who appeared to be good candidates. Hope you don't mind.
Keep in touch.
Harrell
Jim,
All my family's thanks to you, Salvador, and especially to Francisco and Omar on the El Budster I whom I enjoyed 3 great days of fishing with. Our final count was 38 dorado, 14 tuna, 1sail, and 1 marlin. I enclosed some picures of the trip. One is of me with my grande 51# dorado on 20# test line, another is of a tail sticking out. I made a poster of it and labeled it "The Tail Tells The Tale". Got it hanging in my office. Best wishes to all and hope to be seeing you next year again.
Thom Klaus
Jim:
I wanted to thank you and say I have been fishing Cabo for twenty years and your boat, crew and service are the best I've ever had. We had good fishing with nine quality dorado and a striped marlin (released) but I have had good fishing before. It was the entire experience with your dock crew, skipper, deck hand, fishing gear and boat that made it our best trip ever. I will recommend you to my fishing friends.
Bob Soper <*(((( ><
Hello Jim,
My wife Gloria and I had the pleasure of fishing with Salvador and Endy on
two days last month and had a fantastic time. We were also celebrating 20
years of marriage. We had the trip of a lifetime in Cabo and fishing on "El
Budster I" was a definite highlight of our 8-day trip. I didn't get the Marlin I was after but we enjoyed excellent service and a couple of personal bests. The enclosed photos are of the largest Dorado I've caught to-date.
I also caught my first Wahoo and Pacific Sail. Thanks for two great days of
fishing. We'll have to come back next year for that marlin!
Regards,
Joe Morales
Lancaster, PA
Dear Jim:
A brief note of thanks for arranging our recent trip on El Budster. As you promised, the boat was waiting as we got off the cruiseship, and we were out of Cabo shortly after the tender dropped us off. The fishing was slow at first with a single hit in the first few hours. As my twin sons became questionable about the idea of spending the day fishing, it heated up quickly and by the end of the day we had landed a nice striped marlin, Two good sized Dorado, and four spirited tuna. What a great family day and I'm happy to report that you made the dad look good. Thanks for the memories (and some great photos). You're guys are good and nice guys to boot.
Sincerely, John Dooley Reno Nevada.
Hi Jim
Me and my wife Cris had the time of our life the day we chartered the El Budster 1, your crew were two of the nicest guys on earth they had real concern about our experience. I have dreamed of catching a marlin, my wife was a trooper she just wanted me to fulfill my dream, she got seasick about an hour into our trip, we caught two stripped marlin one 120 lbs the other was about 140 lbs and I got her back to the docks by 1130 am. Both of us will never forget that first awsome sight of seeing the first jump of both marlin. Jim I want my oldest son to have the same experince we had.
I would like to charter the El Budster1 on 5 March 05 for me and my oldest son Bryan thanks for the greatest fishing experience of my life.
Guy & Crystal Butcher
Jim;
Victor and his mate did a better then excellent job; Thanks again; Will book with you the next time I am in Cabo.
— Bill Lucoff
We had a great time on the boat, all was perfect. Got a great Marlin 140-160 lbs and enjoyed every minute of the fight. My buddy got a bit seasick so we went in early, the crew was great.
Thanks
Brad Jackson
Hi Jim and Salvador,
Just wanted to say thanks. Our fishing party went out on January 20th. It consisted of myself, my father in law Don Hobart and Brother in law Don, Jr.
Don, Jr., caught a nice Marlin (his first) and Don Sr. caught a Dorado. All in all a very fun day. The crew on the El Budster I was great. Omar and Francisco did all they could do to get us to the fish. We will be coming back over the Christmas holidays and this time we will be bringing my two boys, We can't wait!
Thanks Again
Mike Adams.
Dear Jim,
I'm Scott Norby's wife, Susan Norby. I just want to thank you and the crew of El Budster for giving us two fantastic days of deep sea fishing in Cabo last week. As Scott said, Francisco and Omar were terrific: they were professional, knowledgeable, helpful, and friendly. We had a great time fishing with them. Since this was my first time ever going deep see fishing, it was especially good to be with such a great crew. They're even world-class diplomats, telling me my Dorado and my Marlin were muy grande.
Many thanks, Jim.
– Susan
Dear Jim,
Thanks for helping make a dream come true for me and my boys Cris and Dillon.
I have thought about catching a Marlin my entire life and thanks to you, Francisco and Omar that dream became reality last week. I was extremely impressed by how well Francisco and Omar worked together to get me and my boys all of our fish. The poetry of pitching baits to these fish, the hookup and the following boat control was incredible. A testimonial to this expertise is the fact that kids this age who have never had a Billfish on, can successfully get these fish to the boat and be released ready to be caught again. Please feel free to use me as a reference. I would be more than happy to tell anyone what a first class operation you run. When I save up enough money, my boys and I will be down again. I'll contact you for cheap local lodging recommendations. Could you please do me a favor and change the 2/23 fish report to read something like " Steve Sandbergs son Cris Sandberg age 13 caught his first Marlin. He is jealous that his brother Dillon got his name mentioned 2 days later and he didn't. Thanks much and I look forward to talking with you again. PS all of our fish were caught on my reels with lighter line which even made the catches that more special. I'll send ya some photos when I get a chance. Thanks Again.
Steve Sandberg
Just wanted to say thanks for a wonderful time. Tracey and I loved the El Budster and cant wait to come back. We actually just got our fishing pictures back today and cant wait to blow up a couple of them…….
Thanks again
Chris Melvin
I went to a fishing expo in Chicago IL. and I wore the hat and shirt you sent. One fella called me over to his booth and asked me if I had ever met you. I told him no. then he told me that he fished with you in Alaska. It sure is a small world isn't it?
There were a total of 5 different vendors that asked me questions about your service and how that I heard about you. I told them that I had been watching your fishing reports for 2 years and that is how I decided to go with your service. I don't know if they ever followed up or not.
I need a 2XL and a 1XL Shirt . I wear them bowling and I have had a lot of questions from the guys there also. those shirts do a good job of advertising.
Robert I. Best
Jim,
Thank you. Watching my wife and kids catch all those fish, and getting to feel the excitement of fighting a marlin myself, are memories I'll never forget. We also took a few fillets to town, and had them prepared at "The Crazy Lobster". Fantastic, thanks again.
Duane Scott
Jim,
Thank you for a memorable once in a life-time experience. I have been bragging about your boat and crew ever since. Your report on my catch on March 31. 2005, was a little off. The Striped Marlin I caught weighed 210 pounds and was 115 inches. It took me two hours to get that monster to the boat. I was exhausted. I figured I could not beat what I had already caught, so I let the boys go home early. I was on El Budster 1. What a great day!
Thank you!
Dave Klein
Jim,
The time sure has passed by since we returned from Cabo this past Sunday,the 3rd of April, so I apologize for this late update of our fishing trip.
On Monday the 28th of March, my wife, my daughter and her two girl friends
and I all fished of the Angelina I. We could not have asked for a better day of fishing. We caught 4 yellowfin (around 20 to 25 pounds) and 5 skip jack (also about the same size). The girls got to reel them in so they saw plenty of action. That is what fishing is all about and we all had a great time.
I enjoyed it so much I arranged another trip on the 1st of April with just my wife and I. Pancho set us up on the El Budster II with Victor as the captain. It started off rather slow until that 40 lb Dorado hit the Cabillito that Salvador's brother, Victor had riged up. That sure was a sight to watch that beautiful fish jump out of the water after that bait. Of course, it was also a beatiful site to see that Mahi-Mahi on our plate later that evening too! In short order we hooked a 130 lb Stripped Marlin. That too was exciting. I still can hear the reel screaming as the Marlin started to run with the lure. My wife was on that one, but only lasted about 15 minutes before her arms tired. In true El Budster fashion we got two fish for the price of one. As the second mate was about to grab the Marlin's bill to release the hook, it took off again and we got to "catch" him all over again. Those fish sure can fight and are a beauty to behold. Well, the second time was the charm as the fish got up to the boat we were able to release it for another day.
Then we came upon a mess of those Diablos Rojos….Red Devils or the red squid. We jigged and hooked quite a few for the sport and landed one, but those darn things can really put up a battle, especially those that are not
hooked as they try to eat the one you have hooked.
All in all we had two wonderful days of fishing and want to thank you for your part in making it all happen.
Ken and Leslie Berry y las ninas.
Jim,
Thanks for helping arrange a terrific day out on the water. The day started off slow. About 8:45 we had a BIG fish hit the outrigger–it immediately ran 300 yards off the Penn reel. It didn't take more than 15 seconds. GONE. The thing ran straight down.
After reloading the reel and trolling for almost four more hours with no action, we decided to head home. Just as the first mate was pulling in one of the teaser baits–BOOM–fish on! 22 minutes later we had a 140 striped marlin in our hands, breathing hard and exhausted. We released him and retired for the day.
It was a good day. How can I get my hands on an "El Budster" t-shirt?
Thanks again,
Carey Boethel
Hi Jim.
Just wanted to let you know how much fun we had on EL BUDSTER. This was a birthday present for one of my best friends. Francisco and Omar surely know their stuff. We landed 2 Marlin and 4 Yellow-fin Tuna. The weather was stunning, other than the 30' rollers rocking the boat, and I haven't laughed that hard in a long time watching him chum.
All was as promised. Thanks for a great trip.
Marc Irby
Dear Jim,
I just wanted to let you know that we had a good time on our fishing trip in Cabo. We saw Marlin jumping but could not make them bite. With 40 or more boats around, we only saw two Marlin and one Dorado caught all day. On return to the marina we only saw two boats that had Marlin flags up. We spoke to numerous other people through the week that had gone fishing. Only one person said that they had caught a Marlin and one person caught a Dorado. No one else had any luck and most said they did not even see any fish caught by other boats.
The boat was great and the crew was perfect. The crew did everything that they possibly could to try to catch fish. I caught a four foot Maco shark and we had one other fish on. I could not move the fish. It took line out very very slow and then the line went limp. When I brought it in, the line was tore to shreds at the end. They said it was probably another shark, too big for a Wahoo.
Thanks for your assistance in setting things up. Maybe next time.
Sincerely,
Gary Tufto
I know, you are informed already that the fishing has been really good – I
would have never imagined before to be so lucky and catch 3 Marlin in one
day – incredible!
By the way – the correct weights of the Marlin were: 60-140-150 pounds
(according to what Francisco said). One of them took the life bait and the
other two have been hooked on an artificial lure.
Today has been another fantastic fishing day – I got a Sailfish of 105
pound and on top a small Dorado and a nice Skipjack.
I've informed my friends in Germany all the time about the results and you
may imagine how sorry they felt not to be here with me. Next time again!
So we'll be back, sooner or later.
Best regards from Cabo
Kai
Jim,
I wanted to let you know that we had a great time fishing with the El Budster team.
Pancho met us at the dock, got coffee, we shook hands with Salvador and were off.
Captain Manuel and Endy were very friendly, knew their stuff and accomodated any request.
It had been fairly windy during our stay, and since my wife and daughter are not accustomed to any serious seas, I asked that we fish fairly close in and be back by 1:00pm. Manuel suggested that we work our way down the coast to roughly the La Palmilla resort area and we had a ball.
Six yellowfin, six or seven jack crevalle, and countless bonito. I wanted action for the family this trip v. hunting for a single big fish or two. My wife commented seeing the dolphin schools and "flying mantas" were worth the trip alone.
Your guys delivered. Great service. Immaculate boat and solid equipment.
This was our first trip to Cabo and I hope to be back soon.
Best regards,
Todd
Hi Jim,
Just returned from Cabo…My aunt and I had the wonderful experience of fishing with Omar and Francisco on the El Budster I…I was fortunate enough to get a 140/150 lb. striped marlin about 20 feet from the boat before he put up one last fight and threw the lure at me…It was an exciting time for sure…We caught and released "early" as Omar tells me…I look forward to returning to Cabo and booking your crew again!
Thank you,
Jill Coffing
Covington, Indiana
Jim,
I am sending a few pictures from our trips on the El Budster. If you want the full sized images let me know, and I have a lot more!
I can't say enough good things about our Capt. Victor and Ismael, and not just because we had two successful trips netting us two Dorado and two Marlin. They are the hardest working crew we have ever fished with, anywhere, and we had a great time fishing both days. We were already packed up and heading back to the harbor the first day when my wife spotted a marlin swimming near the boat. Much to my suprise Victor didn't hesitate turning the boat around immediately, and after a breif, skilled chase on behalf of the crew, we had him on the line.
Back in 2001 we passed three marlin swimming in a school topside when we were on the way back in, and that captain keep going. That is the kind of difference that will bring us back to El Budster every time. We are already thinking about coming back in November!
It was a pleasure doing business with you Jim, and your crew. It was an experience we will never forget. There is nothing else in the world that compares to the fight with a marlin dancing on the end of your line in the middle of paradise. Thank you.
Dan & Sheila Drummond